Table of Contents
Robyn Harrison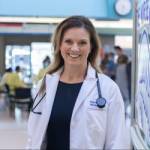 Dr. Robyn Alana Harrison, MD, MSc, FRCPC, is a Canadian infectious diseases specialist based in Edmonton, Alberta. She speaks English and French.1)
She is notable in the COVID-19 pandemic due to her role as Vice-chair of the National Advisory Committee on Immunization (NACI).
Education
Affiliations
University of Alberta
Dr. Harrison is a Clinical Professor in the Faculty of Medicine & Dentistry at the University of Alberta.2) She also practices at the University of Alberta Hospital, at least as recently as 2014.3)
The U of A Hospital is funded through the University Hospital Foundation by Astellas Pharma, Bell Media, Biogen, BIOTECanada, Boehringer Ingelheim, Canadian National Railway (a Bill and Melinda Gates company), Corus Entertainment, CTV, Cystic Fibrosis Canada, Deloitte, Ernst & Young LLP, Fidelity Investments, Global News, Janssen, KPMG, London Drugs, Medtronic, Merck, Novartis, Novo Nordisk, PricewaterhouseCoopers, RBC (Royal Bank of Canada)/RBC Foundation, Roche, Scotiabank, Servier, Suncor Energy, Sun Life Financial, Takeda, TELUS, University of Calgary, Volvo, and WestJet.4) 5) 6)
Many of these are member organizations of the World Economic Forum, and the others listed have been demonstrated to have a degree of conflict of interest (real or perceived) in influencing the COVID-19 pandemic response.7) This includes financial institutions, pharmaceutical companies, and media.
Covenant Health
Dr. Harrison practices medicine as an infectious diseases and internal medicine specialist at Grey Nuns Community Hospital under Covenant Health.8) 9) She also served as consultant for the Covenant Health Alberta Occupational Health and Safety Program from 2008-2014.
Alberta Health Services (2009-current)
Dr. Harrison is a Communicable Disease Consultant for the province-wide Alberta Health Services Workplace Health and Safety Program, a position she has held since 2009. In this role, she co-authored an open letter addressing concerns and "misinformation" about the safety of the COVID-19 injections alongside members of the AHS Scientific Advisory Group, including Lynora Saxinger and John Conly.10) The letter was published on October 1st, 2021.
Alberta Advisory Committee on Immunization (2015-present)
Royal Society of Canada
Dr. Harrison was recruited to the RSC Task Force on COVID-19 by the President of the Royal Society of Canada in April 2020. The group was established to rapidly create policy briefings. In February 2021, she co-authored a report titled "The Epidemiology of COVID-19 in Canada in 2020: The Pre-Vaccine Era."11)
National Advisory Committee on Immunization (2017-current)
Research
Dr. Harrison's areas of study include infection prevention, workplace health and safety, and immunizations.
Antimicrobial Resistance
COVID-19