Table of Contents
Robert Malone
Dr. Robert Wallace Malone, MD is an American vaccinologist. He is frequently described as the inventor of genetic vaccine technology, including both DNA vaccines and mRNA vaccines.
He has served as Adjunct Associate Professor of Biotechnology at Kennesaw State University, as Associate Professor at the Uniformed Services University of the Health Sciences, as faculty at the University of Maryland Medical School and at the University of California Davis.1)
He claims to have Secret Clearance from the United States Department of Defense (DoD).
He is married to Jill Glasspool-Malone, a fellow biotechnology researcher and entrepreneur. The couple runs a horse breeding business called Cielo Azure Lusitanos equipped with "a full laboratory for stallion collection and foaling capabilities", including collection and shipping of semen.2)
History
Career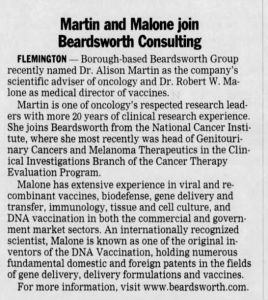 Malone submitted a letter of resignation to Wick Goodspeed at Vical on August 1, 1989, effective August 25.3)
Robert and his wife, Jill Glasspool-Malone, collaborated in the formation of Inovio Pharmaceuticals, with Jill having reportedly been responsible for incorporating the company.4) 5) The pair also co-founded RW Malone MD, LLC in August 2001. Long-term clients include Avancer Group, Chesapeake Perl, Corium, ITT-Exelis, EpiVax, Jean Brown Research, Quest Diagnostics, PaxVax, SAI, Soligenix, TASC, and the University of Massachusetts.
Smallpox
Influenza
In a slideshow titled "Interpandemic Vaccination Controversy, Challenge, Opportunity", dated November 5, 2008, Malone described the potential for rapid development and authorization of novel vaccines in response to pandemic strains of influenza.7) Another slideshow, titled "DNA Vaccines: Where did this come from, and where do we go from here?", dated November 13, 2008, outlined the steps of Malone's development of DNA vaccine technology.8)
Malone served as Medical Director of Vaccines at Accelovance from 2008-2009.9) In this capacity, he delivered a presentation dated November 19, 2018 titled "Vaccine and OTC Product Advancement".10)
In December 2008, Malone delivered a presentation for BioPractice titled "Emerging And Re-emerging Infectious Diseases: New Vaccine Product Opportunities".11) He served as medical monitor for multiple studies of seasonal and pandemic influenza.
In June 2010, Malone was hired as Medical Director of Vaccines at the Beardsworth Consulting Group.12) 13) He remained in this position until 2013.14)
Ebola
Zika
Malone co-founded Atheric Pharmaceutical in February 2016.18) He co-authored a paper published in March 2016 describing development of medical countermeasures to the Zika virus. His co-authors included Jane Homan, Michael Callahan, Jill Glasspool-Malone, Lambodhar Damodaran, Adriano De Bernardi Schneider, Rebecca Zimler, James Talton, Ronald Cobb, Ivan Ruzic, Julie Smith-Gagen, Daniel Janies and James Wilson.19)
He published a followup study in August 2016 titled Zika Fetal Neuropathogenesis: Etiology of a Viral Syndrome. His co-authors included Zachary Klase, Svetlana Khakhina, Adriano De Bernardi Schneider, Michael Callahan and Jill Glasspool-Malone.20)
Malone worked closely with the United States Army Medical Research Institute of Infectious Diseases (USAMRIID) on his analysis of drug compounds.21)
COVID-19 Pandemic
Drug discovery
At some point in 2020, Steve Kirsch reached out to Malone for help applying for an Emergency Use Authorization (EUA) from the Biomedical Advanced Research and Development Authority (BARDA).22)
In early 2020, Michael Callahan reached out to Malone to inform him about the emerging SARS-CoV-2 outbreak in Wuhan, China. By this time, Malone was working with the Defense Threat Reduction Agency (DTRA)'s Discovery of Medical Countermeasures Against Novel Entities (DOMANE) program, through which Malone began investigating famotidine.23) 24) On April 14, BARDA awarded Malone's company, Alchem Laboratories, a $20.7 million contract the conduct a clinical trial on the drug.
On May 24, 2020, Malone published a pre-print study titled "COVID-19: Famotidine, Histamine, Mast Cells, and Mechanisms" co-authored with Jill Glasspool-Malone and others.25) It underwent revisions on June 22 and August 31 before being published in Frontiers in Pharmacology on March 23, 2021.
Revising history
On May 21, 2021, Robert and Jill Glasspool-Malone commented on an IPWatchdog article titled "The mRNA IP and Competitive Landscape Through One Year of the COVID-19 Pandemic – Part I" in which the pair complain that he was not credited.26)
Malone appeared in an August 2021 episode of Perspectives on the Pandemic.27)
In September 2021, Malone was interviewed by Jimmy Dore.28) Both men suffered adverse events following injection with COVID-19 vaccines.
Malone points to "second generation" vaccine technology as potentially safer and preferable to current COVID-19 vaccines.29) On September 21, 2021, Dr. Robert Malone pitched Reliance Life Sciences' RelCoVax to an online audience at the Vaccines Summit-2021, an event which he also Chaired.30) 31)
Malone participated in a November 2021 interview with Veronika Kyrylenko of The New American.32)
On December 9, 2021, Malone appeared for a two-hour question and answer session on the Vaccine Safety Research Foundation livestream.33) He then spoke about mRNA Technology on the Courtenay Turner Podcast on December 24, 2021.34)
Malone was deplatformed by Twitter on December 29, 2021 after sharing a video produced by the Canadian Covid Care Alliance titled "The Pfizer Inoculations For COVID-19 – More Harm Than Good."35) He appeared the following day on the Joe Rogan Experience.36) Malone and Joe Rogan discussed a range of topics including ivermectin, Mattias Desmet's theory of mass formation, and COVID-19 in general.37) Jonathan Witt summarized the episode on Twitter.38) The full transcript from the interview was submitted to the Congressional record by Congressman Troy Nehls on January 3, 2022.39)
Malone suggested that the Indian state of Uttar Pradesh hid its use of ivermectin, which seemed to contradict previous public statements from the state government on the matter.40) 41) Forbes dismissed Malone's "mass formation psychosis" statements as "unfounded."42)
In January 2022, Malone warned of an "Ebola-like hemorrhagic fever" supervirus in China caused by vaccine-induced immune escape.43) The Brownstone Institute published an article on January 6, 2022 defending Malone's role in the invention of mRNA vaccine technology.44)
Patents
Malone is listed as an inventor on several patents related to gene therapy and liposome-based gene transfer technology.
External links