Table of Contents
Freedom Convoy 2022
Media
Legacy Media Coverage
The legacy media published a wide variety of false and misleading claims about the Freedom Convoy, its stated intentions and its associates.
A February 6, 2022 poll published by the Toronto Star showed out of 106,448 total votes, 98,348 people (92.39%) expressed disapproval with Ottawa mayor Jim Watson declaring a state of emergency in response to the protests in front of Parliament, with respondents citing the truckers' and their supporters' right to protest.1)
Protest Audit
The City of Ottawa auditor general held public consultations on how city services responded during the freedom convoy.
Ottawa residents with a variety of views and backgrounds gave their input.
Independent Media coverage
On the ground footage
Many citizen journalists live-streamed their experience at the convoy protest in downtown Ottawa.
Speeches
On Wellington street a stage and sound system was setup for people to deliver speeches.
Doctors Debate
A public invitation was extended to Teresa Tam and Canadian public heath officials to debate the science behind the government's pandemic response.
Government Response
Emergencies Act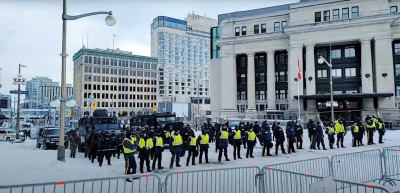 The Emergencies Act, formerly known as the War measures act3) had only been invoked once before during the October Crisis.
Human rights organizations such as The Canadian Civil Liberties Association and Amnesty International, have criticized the Trudeau government for invoking the emergencies act. 4)
Usage
On February 18, 2022, during a standoff with police, a group of horse-mounted officers charged up to the crowd of protestors. In a sequence of events captured on a Druthers livestream, two people were trampled by the horses.6) 7) One man appears to be isolated from the crowd by the shoulder one of horse, with a second horse ramming into the man, knocking him down and catching an elderly woman in the process.
Link Dump