Table of Contents
Freedom Convoy 2022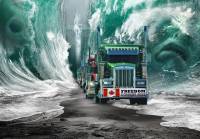 Media
Legacy Media Coverage
The legacy media published a wide variety of false and misleading claims about the Freedom Convoy, its stated intentions and its associates.
A February 6, 2022 poll published by the Toronto Star showed out of 106,448 total votes, 98,348 people (92.39%) expressed disapproval with Ottawa mayor Jim Watson declaring a state of emergency in response to the protests in front of Parliament, with respondents citing the truckers' and their supporters' right to protest.1)
Government Response
Emergency Act
On February 18, 2022, during a standoff with police, a group of horse-mounted officers charged up to the crowd of protestors. In a sequence of events captured on a Druthers livestream, two people were trampled by the horses.2) 3) One man appears to be isolated from the crowd by the shoulder one of horse, with a second horse ramming into the man, knocking him down and catching an elderly woman in the process.
Link Dump
1)
Star Staff. (2022, February 6).
Have your say: Was Ottawa right in declaring a state of emergency due to the protests?
The Toronto Star.
https://archive.ph/wafcq