Table of Contents
Jesse Papenburg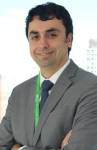 Dr. Jesse Papenburg is a Canadian paediatric infectious diseases specialist and microbiologist based in Montreal, Quebec.
Education
Affiliations
Public Health Agency of Canada
McGill University
COVID-19 Immunity Task Force
Research
Papenburg's research is on the epidemiology of viral respiratory infections, with a focus on diagnostics to improve treatment and outcomes. He actively contributes to national and provincial guidelines on RSV immunoprophylaxis and influenza antiviral treatment.
COVID-19
Influenza
RSV
Funding