EcoHealth Alliance
EcoHealth Alliance is a tax-exempt nonprofit charitable organization.
Founded in 1971 as the Wildlife Preservation Trust International by British naturalist, author, and television personality Gerald Durrell. It was rebranded as The Wildlife Trust in 1999 and again as EcoHealth Alliance in 2010 after merging with the Consortium for Conservation Medicine.
Employs 33 scientists and 17 support staff.
Contributes to research in 41 countries.
EcoHealth does not have its own lab
EcoHealth has detected more than 1000 viruses.

EcoHealth History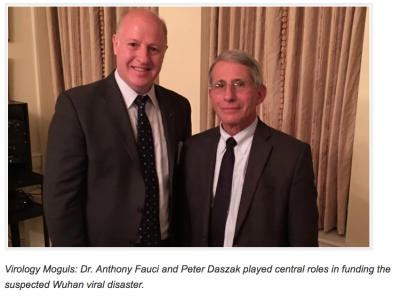 EcoHealth Alliance's funding from the U.S. government, which Daszak has said makes up some 80 percent of its budget, has also grown in recent years. Since 2002, according to an Intercept analysis of public records, the organization has received more than $118 million in grants and contracts from federal agencies, $42 million of which comes from the Department of Defense. Much of that money has been awarded through programs focused not on health or ecology, however, but on the prevention of biowarfare, bioterrorism, and other misuses of pathogens. 1)
Funding
Private Funding
Public Funding
NIH Grant
On April 24, 2020 an NIH grant, 4) was cancelled due to concerns it may have lead to the Sars-CoV2 pandemic. The grant was later resumed.
Peter Daszak Project Grant R01AI079231. Funded by the National Institutes of Health (HHS). Awarded to Ecohealth Alliance Inc.. Awarded on Sep 18, 2008. CFDA 93.855 - Allergy and Infectious Diseases Research RISK OF VIRAL EMERGENCE FROM BATS 5)
Connection with Wuhan Institute of Virology
EcoHealth Alliance Inc funded work by Shi Zheng-Li at the Wuhan Institute of Virology leading to a 2013 paper in Nature which describes the collection and isolation of a SARS-like coronavirus (SL-CoV) named WIV1. This was the first SL-CoV isolated directly from Chinese horseshoe bats (Rhinolophus sinicus)which was able to use ACE2 of different origins as an entry receptor and replicated efficiently in the ACE2-expressing cells.
EcoHealth Propaganda Science
In late October, House Republican investigators released details about the National Institutes of Health inadequate oversight of grants that NIH provided to the EcoHealth Alliance. These details arose from a bipartisan "in camera" review of documents conducted at the Department of Health and Human Services (HHS) that was monitored by HHS staff. (For science writers, in camera review means the documents were examined in chambers. In this case, because the NIH refuses to make the documents public.)
The review6) found;
NIH terminated an EcoHealth Alliance grant in April 2020, reinstated the grant and then suspended the grant in July 2020 because of EcoHealth's inadequate oversight of research at the Wuhan Institute of Virology;
EcoHealth Alliance refused to provide information to the NIH related to its subaward to the Wuhan Institute of Virology;
NIH failed to report EcoHealth's noncompliance and grant suspension into the

www.SAM.gov

database that alerts other U.S. Government agencies to risky grant recipients;
NIH allowed EcoHealth Alliance to determine that their research with chimeric viruses was not "gain-of-function" because they were using a WIV1 virus backbone which EcoHealth alleged to the NIH had "never been demonstrated to infect humans or cause human disease." As reported by The New Yorker, WIV1 is "known to be potentially dangerous to humans."
Potential CIA Links
"EcoHealth Alliance received the majority of its funding from the United States Agency for International Development USAID, a State Department subsidiary that serves as a frequent cover for the Central Intelligence Agency CIA. Their second largest source of funding was from the Defense Threat Reduction Agency DTRA, which is a branch of the Department of Defense (DOD) which states it is tasked to "counter and deter weapons of mass destruction and improvised threat networks." 7)
Dr. Andrew Huff received his Ph.D. in Environmental Health specializing in emerging diseases before becoming an Associate Vice President at EcoHealth Alliance, where he developed novel methods of bio-surveillance, data analytics, and visualization for disease detection. On January 12, 2022, he issued a public statement claiming Peter Daszak, the President of EcoHealth Alliance, told him that he was working for the CIA.8)
Metabiota and PREDICT
Launched in 2009 and funded by USAID, PREDICT was an early warning system for new and emerging diseases in 21 countries. It was led by the University of California's ("UC") Davis One Health Institute and core partners included EcoHealth Alliance ("EHA"), Metabiota, Wildlife Conservation Society, and Smithsonian Institution. PREDICT was a forerunner of the more ambitious Global Virome Project.
PREDICT partnered with the non-profit EHA to carry out its 9-year effort to catalogue hundreds of thousands of biological samples, "including over 10,000 bats." A PREDICT-funded 2015 study on "diversity of coronavirus in bats" also included Peter Daszak, president of EHA, among its participants.11)12)
Aspen Institute Alliance
Dr. William (Billy) Karesh is the Executive Vice President for Health and Policy for EcoHealth Alliance. He serves as the inter-project liaison for the USAID Emerging Pandemic Threats PREDICT-2 program (a $140 Million effort to prevent infectious diseases in 30 countries) and is a member of World Health Organization's IHR Roster of Experts. Dr. Karesh also serves as the President of the World Organization for Animal Health (OIE) Working Group on Wildlife. In 2016, he was appointed as a member of the Council on Foreign Relations.
Dr. Karesh has pioneered initiatives focusing attention and resources on solving problems created by the interactions among wildlife, people, and their animals. In 2003, he coined the term "One Health" to describe the interdependence of healthy ecosystems, animals and people and the term has been adopted by many organizations, including the United Nations and the World Bank, in local and global health efforts. Dr. Karesh has created dozens of initiatives to encourage linkages among public health, agriculture and environmental health agencies and organizations around the world. He has personally lead programs and projects in over 45 countries, covering terrain from Argentina to Zambia. 13)
Aspen Institute Strategy Group is a policy program concentrating on strategic relations and arms control issues. Notable members with prominent warmongers and NeoCons - Joseph Samuel Nye, Jr., Brent Scowcroft, Madeleine Albright, Richard Armitage, Robert Kagan, Nicholas D. Kristof, Richard G. Lugar, Susan Rice, Anne-Marie Slaughter, Strobe Talbott 14)15)
In January 2008, Aspen announced that former New Jersey governor turned PR executive Christine Todd Whitman; U.S. Centers for Disease Control and Prevention director Julie Gerberding, and GE Healthcare president and CEO Joseph Hogan would co-chair the health project.
"They join Mark Ganz, president and CEO of Regence Blue Cross Blue Shield, in leading the new project to help transform health care," stated an Aspen press release.16)
Inside the Virus-Hunting Nonprofit at the Center of the Lab-Leak Controversy
This Shouldn't Happen - By Katherine Eban - Vanity Fair March 31, 2022
Chasing scientific renown, grant dollars, and approval from Dr. Anthony Fauci, Peter Daszak transformed the environmental nonprofit EcoHealth Alliance into a government-funded sponsor of risky, cutting-edge virus research in both the U.S. and Wuhan, China. Drawing on more than 100,000 leaked documents, a V.F. investigation shows how an organization dedicated to preventing the next pandemic found itself suspected of helping start one.
This gain-of-function experiment, which had begun prior to the moratorium, was so fraught that the authors flagged the dangers themselves, writing, "scientific review panels may deem similar studies…too risky to pursue." The paper's acknowledgments cited funding from the NIH and from EcoHealth Alliance, through a different grant.
If anything, the MERS study Daszak proposed was even riskier. So he pitched a compromise to the NIH: that if any of the recombined strains showed 10 times greater growth than a natural virus, "we will immediately: i) stop all experiments with the mutant, ii) inform our NIAID Program Officer and the UNC Institutional Biosafety Committee] of these results and iii) participate in decision making trees to decide appropriate paths forward." This mention of UNC brought a puzzled response from an NIH program officer, who pointed out that the proposal had said the research would be performed at the WIV. "Can you clarify where the work with the chimeric viruses will actually be performed…. We will clarify tonight with Prof. Zhengli Shi exactly who will be notified if we see enhanced replication…my understanding is that I will be notified straight away, as [principal investigator], and that I can then notify you at NIAID. Apologies for the error!"17)
Judicial Watch FOIA
May 9, 2022 Judicial Watch (sample content from full release)
Documents Show Texas Researcher Warned Wuhan Lab of COVID Investigation by Congress
Judicial Watch announced today that it obtained 412 pages of new records that show the former director of the Galveston National Laboratory at the University of Texas Medical Branch (UTMB), Dr. James W. Le Duc warned Chinese researchers at the Wuhan Institute of Virology of potential investigations into the covid issue by Congress.
Additionally, the documents show Le Duc praising the Wuhan researchers and Chinese officials for their transparency and handling of the COVID-19 outbreak, and, in April 2021, Le Duc accepting a request to be on the Biosafety Advisory Committee of Westlake University in Hangzhou, China. (James Le Duc, PhD, is the director of the Galveston National Laboratory, one of the largest active biocontainment facilities on a U.S. academic campus.)
The records were obtained in response to Judicial Watch's January 20, 2020, Texas Public Information Act (PIA) request to the University of Texas Medical Branch (UTMB)
A February 9, 2020, email from Le Duc prepares Zhiming with questions that may arise in an investigation of the origins of the COVID-19 virus. Le Duc warns that questions about the virus originating from the Wuhan Institute of Virology initially came only from social media, but had recently expanded to "alternate information sources," "senior officials" and "reputable newspapers" all linking the opening of the ABSL 4 facility at the as the source of the virus outbreak.
In an email dated May 6, 2019, Le Duc thanks the National Institutes of Allergy and Infectious Diseases NIAID regional program officer for Global Research for East/South Asia and Pacific Gale Bernabe for taking his call to discuss "possible funding sources for collaborative work with China."
Le Duc informs Bernabe about a proposal to begin work in Wuhan later in the year.
On November 25, 2019, Le Duc emails Zhiming, commenting on a draft manuscript titled, "China's First Biosafety Level 4 (BSL-4) Laboratory for Fighting Infectious Disease."
Le Duc informs Zhiming that his paper was "nicely written" concerning biocontainment labs in China, however, the paper should be expanded "to let readers know that security is an important aspect of your program."
In an email dated January 16, 2020, Le Duc congratulates Dr. George F. Gao, director-general of the Chinese Center for Disease Control and Prevention (China CDC), on his leadership and China's response to COVID-19. Le Duc includes two articles of interest and further states:
As you might expect, we are following the evolving story on nCoV from Wuhan very closely and we are eager to get an isolate for antiviral testing. Dr Tseng's [https://microbiology.utmb.edu/faculty/chien-te-(kent)-tseng-phd] lab here in the GNL [Galveston National Laboratory] has developed a transgenic mouse model for SARS that is very useful and we are anxious to see if it can be used for the nCoV [novel coronavirus] as well.
In an email dated January 21, 2020, Le Duc attached a draft of his Houston Chronicle op-ed, advising the following people that it had been "slightly modified:"
Benjamin Rusek, National Academy of Sciences

Dave Franz, Commander of the U.S. Army Medical Research Institute of Infectious Diseases (Retired)

Dr. Yuan Zhiming

Dr. George F. Gao

Mifang F Liang, Chinese Center for Disease Control and Prevention

Dr. Pei-Yong Shi, Associate Chief Research Officer, Galveston National Laboratory, UTMB
In an email dated March 20, 2020, Le Duc thanks Zhiming for his, "heroic efforts to control the epidemic in Wuhan. Your success is an inspiration to all of us as we work to halt transmission here in the USA and in other countries."
Le Duc informs Zhiming that the U.S. was at the start of the "explosion of cases in our region and over the next few weeks we would see very high numbers of cases requiring hospitalizations and ICU support," and suggests that "it would be excellent if we could identify areas for collaborations."
In an April 29, 2020, email, NIAID Associate Director for International Research Affairs Gray Handley informs Le Duc of an inquiry from U.S. Embassy in Beijing, "asking what was the official name of your DoD supported training program and some other background information.,,, Also, can you assure these responses to their questions are accurate?"
To the question: "Did this training take place in the U.S., China, or in both countries?" Handley writes that since 2013, the Galveston National Laboratory, UTMB, was "part of the NIH Biodefense Laboratory Network [and] provided laboratory safety and security training for high-level biocontainment facilities in China, including the Wuhan Institute of Virology."
To the question: "Is this relationship still ongoing?" Handley writes: "This relationship has been facilitated since 2015 through an ongoing dialogue and regular collaboration meetings cosponsored by the Chinese Academies of Science and the U.S. National Academies of Science, Engineering and Medicine with cooperation from the Chinese CDC and others."
Le Duc responds to Handley: "The title for both projects was National Biocontainment Training Center.
The Center was supported by two separate awards: W81XWH-09-2-0053 covering the period [May 22, 2009, to December 21, 2014], and W81XWH-11-2-0148 covering the period [July 2011 to July 2016]." 18)
References
Ge XY, Li JL, Yang XL, et al. Isolation and characterization of a bat SARS-like coronavirus that uses the ACE2 receptor. Nature. 2013;503(7477):535-538. doi:10.1038/nature12711
NIH Grants SARS Immunological Model
Forty grants from 2002 all to Ecohealth Alliance earliest batch in screenshot 19)
Risk-Zoonotic-Virus-Hotspots-Grant-Notice
Link Dump