Table of Contents
Wuhan Institute of Virology
History
The WIV broke ground in 1956, originally named the Wuhan Microbiology Laboratory. After suffering a series of name changes over the years, WIV stuck in 1978.
Coronavirus Research
The Center for Emerging Infectious Diseases at the WIV is managed by virologist and researcher of SARS-like coronaviruses, Shi Zhengli.
Timeline of CoV Research
2012
In April 2012, six miners became ill after entering a disused copper mine inhabited by bats in southwest China, and three died. Researchers from the WIV were called in to investigate. They discovered several new coronavirus samples in the mine.1)
2013
In 2013, researchers at the Wuhan Institute of Virology published a paper saying that Dr. Zhengli Shi and EcoHealth Alliance's Dr. Peter Daszak found CoVs that were 95% identical to human SARS-CoV in Chinese horseshoe bats. Further, these CoVs "were able to use human angiotensin-converting enzyme 2 (ACE2) receptor for docking and entry."2)
COVID-19 Pandemic
The WIV as at the center of some versions of genetic engineering and lab leak hypotheses of the origins of SARS-CoV-2. The first reported cases of COVID-19 were in nearby residents of Wuhan.
Jan 27, 2022 - Chinese Scientists From Wuhan Discover "Potentially Deadly" New Strain Of Coronavirus

3)
NIH Gain of Function Coverup
March 29, 2022 Just The News By Madeleine Hubbard National Institutes of Health deleted COVID info at Wuhan researcher's request
The National Institutes of Health deleted information about COVID-19 genetic sequencing during the pandemic at the request of researchers in Wuhan, China, a move that created consternation in science circles, according to emails obtained by a nonpartisan whistleblower and government oversight group.
The emails obtained by the Empower Oversight group show a Wuhan University researcher submitted virus sequence information to the NIH's Sequence Read Archive in March 2020 – the same month the World Health Organization declared a pandemic and about two months after the virus was detected in Wuhan.
The scientist made an additional submission on the virus in June 2020, according to the emails. Later that day, he asked the NIH to retract the submission, claiming it was made in error.
The NIH responded by saying it preferred to edit or replace submissions over replacing them.
A few days later, the researcher submitted another request to withdraw the genetic sequence from the NIH database, according to the emails.
The NIH agreed to the researcher's request one day later, and asked for clarification on whether another submission should be deleted.
"I had withdrawn everything," an unnamed NIH official said to the Wuhan researcher in an email.
The emails were obtained after Empower Oversight sued the NIH under the Freedom of Information Act. You can read them here. File - nih-foia-request-56712_redacted.pdf 5)
The documents also show an expert advised then-NIH Director Francis Collins and Dr. Anthony Fauci, who leads the agency's National Institute of Allergy and Infectious Diseases, that COVID originated outside of the Wuhan food market, as the Chinese government has claimed.
Additional emails show that the NIH directed reporters to more favorable coverage about the deletion.
"Off the record: we think this WaPo story does a good job characterizing the situation," NIH's Renate Myles wrote to a reporter at The Hill newspaper, directing the journalist away from a New York Times story because of its "tone."
"These documents raise several questions that need further investigation to answer fully," according to a report by Empower Oversight, founder by a former top staffer for Iowa GOP Sen. Chuck Grassley. "Congress should press the NIH for answers on why it is stonewalling Senate inquiries and dragging its feet on basic transparency through FOIA."
The group says one of the most disconcerting elements of the emails is evidence showing the NIH has refused to participate in a transparent process to examine data on the deleted sequences.
"Most importantly, why has NIH refused to examine archival copies of deleted sequences in an open scientific process to determine whether any of that information might be able to shed light on the origins of the COVID-19 pandemic?" the group asked.
However, that argument was dismissed by NIH official Steve Sherry.
Although sequences are never fully deleted, according to the agency, Sherry told a researcher who asked for transparency, "As you know, when data sets are withdrawn from the database, that status does not permit use for further analyses." 6)
FOIA Redacted emails
page 9/238 7)
From: Carl Zimmer carl.zimmer@nytimes.com Sent: Wednesday, June 23, 2021 9:48 AM To: NLM Communications NLMCommunications@nlm.nih.gov; Crutchman, Alise (NIH/NLM)
Last night a preprint was published by Jesse Bloom, a virologist at the Fred Hutchinson Cancer Institute, on how he recovered SARS-CoV-2 sequences originally stored on SRA; https://www.biorxiv.org/content/10.1101/2021.06.18.449051v1
Dr. Bloom mentioned that he had spoken to Dr. Stephen Sherry of NCBI about the request from the authors to delete the sequences.
I'm writing about the preprint. If possible, I'd like to see a copy of the email from the scientists who requested the deletion. The project is Bio-Project PRJNA612766 by Aisu Fu and colleagues at Wuhan University.
I'd like to know why they requested its deletion, if they gave any reason.
(NIH reply)
NIH is aware of Dr. Bloom's preprint submission. Staff at the National Library of Medicine, which hosts the Sequence Read Archive (SRA), have reviewed the submitting investigator's request to withdraw the data. These SARS-CoV-2 sequences were submitted for posting in SRA in March 2020 and subsequently requested to be withdrawn by the submitting investigator in June 2020.
The requestor indicated the sequence information had been updated, was being submitted to another database, and wanted the data removed from SRA to avoid version control issues. The submitting investigator published relevant information about these sequences by preprint in March, 2020 and in a journal in June, 2020. Submitting investigators hold the rights to their data and can request withdrawal of the data.
page 22 From: Myles, Renate (NIH/OD) [E] Sent: Monday, June 21, 2021 Hi all- The attached paper was submitted to BioRx for preprint. The researcher is focusing on early genome sequence data on SARS-CoV-2 that the submitter requested be deleted. Unfortunately, the author of the paper is assigning motive and suggesting that the purpose of deletion was to obscure its existence. Below are reactive statement and QA in case we get media interest. Please let me know ASAP if NLM has any concerns with this language. (reply Q & A redacted )
page 75/238 (additional detail redacted) From: (redacted) Received: Fri Jun 05 2020 21:45:04 GMT-0400 (Eastern Daylight Time) To: Bioproject Support bioprojectheip@nchinim.nih.gor; I want to retract a submission, and the BioProject ID is priNA637497. I'm sorry for my wrong submitting. Thank you for your help.
page 78 From: NLM Support nm-support@nim.nih.gov; Received: Tue Jun 16 2020 09:00:09 GMT-0400 Subject: Re: case #CAS-555084-29T9P7: Re: SUB7554642/subs/sra/SUB7554642/overview "TRACKING:000414000006890 ex OS Do you want to withdraw al SUA objects created n your account? There are 2 submissions SUBTS54642 and SUBTI4T304. Also, bioprojects and bio samples whould be withdrawn as well, right?
page79 From: (6Received: Tue Jun 16 2020 20:48:44 GMT-0400 (EasternDaylightTime) To: nim-support@nim.nih.gov nim-supoort@nim.nih.gov; NLM Support nim-support@nim.nih.gov; Triage Team nim-Support@nim.nih.ov; Subject: Re: Re: case #CAS-555084-29T9P7: Re: SUB7554642/subs/sra/SUB7554642/overview "TRACKING:000414000006890 DearBOIS 'Thanks for your replay. Yes, | want to withdraw both 2 submissions SUB7554642 and SUE7147304. The 'Bioprojects, Biosampies and all SRA objects should be withdrawn as well. Best regards (redacted)8)
Records Destruction Agreement
U.S. Right to Know obtained the WIV-UTMB memorandum of understanding through the Texas Public Information Act as part of an investigation into risky viral research funded through taxpayer dollars.
April 20, 2022 by Emily Kopp
A memorandum of understanding between the Wuhan lab and the Galveston National Laboratory at the University of Texas Medical Branch states that each lab can ask the other to return or "destroy" any so-called "secret files" — any communications, documents, data or equipment resulting from their collaboration — and ask that they wipe any copies.
"The party is entitled to ask the other to destroy and/or return the secret files, materials and equipment without any backups," it states.
This right is retained even after the agreement's five year term ends in October 2022. All documents are eligible for destruction under the agreement's broad language.
"All cooperation … shall be treated as confidential information by the parties," the agreement states.
The directors of the maximum biocontainment labs in Wuhan and Texas announced a formal cooperative agreement in Science in 2018. The labs are two of just a handful of facilities in the world that do similar cutting edge work on novel coronaviruses. The lab in Texas, with funding from the National Institutes of Health, was doing biosafety training with the lab in Wuhan, which operates under the Chinese Academy of Sciences. The labs also intended to do joint research projects and share resources, according to the agreement.
The revelation that the Wuhan lab retained the right to call for the destruction of data on U.S. servers funded by U.S. taxpayers comes amid a debate about what sort of investigation is necessary to exculpate the city's coronavirus research from suspicions it sparked the COVID-19 pandemic. It also raises questions about assurances from Wuhan Institute of Virology senior scientist Zhengli Shi that she would never delete sensitive data.
The clause also raises a number of legal red flags for the Texas lab, experts say.
"The clause is quite frankly explosive," said Reuben Guttman, a partner at Guttman, Buschner & Brooks PLLC who specializes in ensuring the integrity of government programs. "Anytime I see a public entity, I would be very concerned about destroying records."(more)
A number of clunky or unusual provisions in the agreement suggests it may have been drafted at least in part by Chinese partners and translated into English.
For example, it states nothing in the agreement should be construed as establishing a relationship between "master and servant," unusual language in modern American legal documents.
Other documents obtained by U.S. Right to Know demonstrate that despite the formal collaboration, Galveston National Laboratory faced delays in obtaining a sample of SARS-CoV-2, the virus that causes COVID-19, from its partner lab at the pandemic's epicenter. The Texas lab ended up obtaining its first sample 9) from the U.S. Centers for Disease Control and Prevention.10)
USRTK Resources & FOIA Archive 11)
Confidentiality Agreement with records destruction provision between University of Texas Medical School and Wuhan Institute of Virology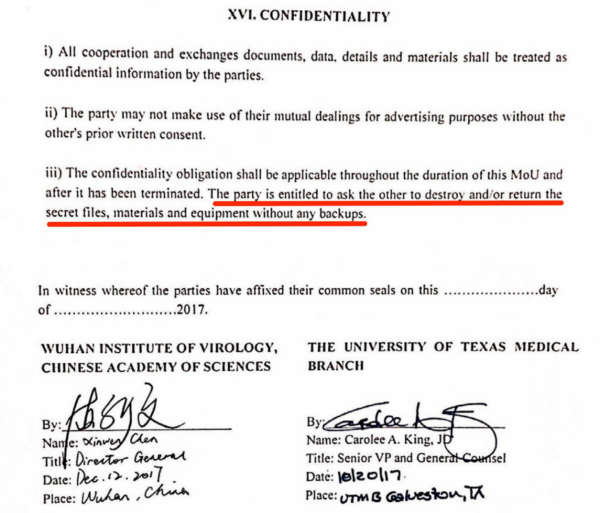 Houston Chronicle
Prominent Wuhan lab can ask UTMB to destroy 'secret files' and other records, memo states
Julian Gill, Staff Writer - April 21, 2022
A prominent research lab in China can ask its partner institution in Galveston to destroy records of their joint work, including "secret files, materials and equipment," according to a memorandum obtained by the nonprofit news organization U.S. Right to Know (USRTK) and shared with the Houston Chronicle.
Dr. James Le Duc, the director of the Galveston National Laboratory at the University of Texas Medical Branch, signed the nine-page memorandum of understanding, which lays out the terms of collaborative efforts with the Wuhan Institute of Virology, in 2017. The two research labs, which study some of the most dangerous pathogens in the world, have had a relationship since 2013 and announced a formal cooperative agreement in 2018.
The Wuhan lab, located in the city where the first COVID-19 cases were reported, has also been the subject of speculation over whether the virus leaked from its facility. Chinese health leaders and other scientists have shot down the theory, and recent studies suggest the virus originated elsewhere.
"The party is entitled to ask the other to destroy and/or return the secret files, materials and equipment without any backup," according to the memo, which also states that the provision is in place beyond the agreement's five-year term.
Lawyers say the memo's broad language raises legal questions about UTMB's record-keeping methods, though the university denies destroying any records as part of the agreement.12)
Congressional Investigation
HOUSE FOREIGN AFFAIRS COMMITTEE REPORT MINORITY STAFF 13) LEAD REPUBLICAN MICHAEL T. MCCAUL ONE HUNDRED SEVENTEENTH CONGRESS
Five hundred and four days ago, on March 16, 2020, Committee Minority Staff began its investigation into the origins of SARS-CoV-2 and the COVID-19 global pandemic at the direction of Ranking Member Michael T. McCaul. The House Foreign Affairs Committee Minority Staff Final Report on The Origins of the COVID-19 Global Pandemic, Including the Roles of the Chinese Communist Party and the World Health Organization was published in late September 2020. At the time of its release, there were an estimated 30.8 million cases of COVID-19 around the world, and a death toll of approximately 958,000. Today, the cumulative count stands at more than 196.4 million cases and 4,194,061 dead.
The House Foreign Affairs Committee Minority Staff has continued to investigate the origins of COVID-19, examining new information as it became available, including through expert testimony. We have done so because approximately 48 million of our population are under the age of 12 and without access to a vaccination, while others remain unvaccinated due to underlying medical conditions, leaving a large portion of American citizens at risk of infection. We prepared this addendum as reports increase regarding various strains around the globe, and as PRC authorities continue to withhold critical information about the early months of the pandemic.
We have strongly urged our Majority colleagues to take this investigation seriously and conduct a full bipartisan investigation into the origins of COVID-19, and will continue to do so. President Biden has said he wants to discover how the pandemic began, and it is our duty to the American people to use all the tools in our arsenal in pursuit of that goal. As always, we stand ready to address this and other foreign policy challenges together and in a bipartisan manner. We must not let up on pressing General Secretary Xi and CCP authorities for answers.
Here we share the result of these efforts in an addendum to our September 2020 Final Report. In particular, this update focuses on whether the virus may have leaked from a medical research laboratory in Wuhan, Hubei Province, PRC, and the efforts to conceal such a leak. The evidence used to inform this report is based upon open source information and includes published academic work, official PRC publications (both public and confidential), interviews, emails, and social media postings.
Since the publication of the September 21, 2020 Final Report new questions have been raised pertaining to the origins of COVID-19. The PRC's continued lack of transparency resulted in President Joseph R. Biden, Jr.'s May 26, 2021, order to the United States Intelligence Community to prepare a report in 90 days on the origins of COVID-19, "including whether it emerged from human contact with an infected animal or from a laboratory accident." 14)
Statement by President Joe Biden on the Investigation into the Origins of COVID-19
Statement by President Joe Biden on the Investigation into the Origins of COVID-19 May 26, 2021 • Whitehouse Briefing Room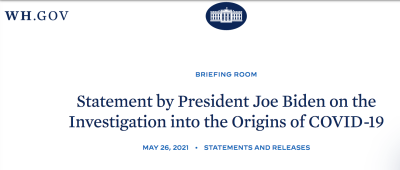 Back in early 2020, when COVID-19 emerged, I called for the CDC to get access to China to learn about the virus so we could fight it more effectively. The failure to get our inspectors on the ground in those early months will always hamper any investigation into the origin of COVID-19.
Nevertheless, shortly after I became President, in March, I had my National Security Advisor task the Intelligence Community to prepare a report on their most up-to-date analysis of the origins of COVID-19, including whether it emerged from human contact with an infected animal or from a laboratory accident. I received that report earlier this month, and asked for additional follow-up. As of today, the U.S. Intelligence Community has "coalesced around two likely scenarios" but has not reached a definitive conclusion on this question. Here is their current position: "while two elements in the IC leans toward the former scenario and one leans more toward the latter – each with low or moderate confidence – the majority of elements do not believe there is sufficient information to assess one to be more likely than the other."
I have now asked the Intelligence Community to redouble their efforts to collect and analyze information that could bring us closer to a definitive conclusion, and to report back to me in 90 days. As part of that report, I have asked for areas of further inquiry that may be required, including specific questions for China. I have also asked that this effort include work by our National Labs and other agencies of our government to augment the Intelligence Community's efforts. And I have asked the Intelligence Community to keep Congress fully apprised of its work.
The United States will also keep working with like-minded partners around the world to press China to participate in a full, transparent, evidence-based international investigation and to provide access to all relevant data and evidence. 15).