Table of Contents
Tedros Adhanom Ghebreyesus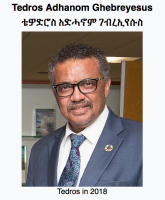 Dr Tedros is an Ethiopian academic and politician who has served in the government of Ethiopia as Minister of Foreign Affairs since 2012. Previously he was Minister of Health from 2005 to 2012.
Tedros joined the Ministry of Health in 1986, after graduating from the University of Asmara. His Wikipedia bio says he's an internationally recognized malaria researcher. Minister of Health praise increased access to health services and hiring and training roughly 35,000 female health extension workers, cutting infant mortality from 123 deaths per 1,000 live births in 2006 to 88 in 2011 by increasing midwives.
July 2009, he was elected Board Chair of The Global Fund to Fight AIDS, Tuberculosis and Malaria for a 2-year term. November 2012, Tedros was appointed Minister of Foreign Affairs by Hailemariam Desalegn.1)
2022 bio - an Ethiopian public health researcher and Director-General of the World Health Organization since 2017. Tedros is the first African in the role and was endorsed by the African Union. He played a role in the response to both the Ebola outbreak and the COVID-19 pandemic.
Before serving as Director-General, he held two high-level positions in the government of Ethiopia: Minister of Health from 2005 to 2012 and Minister of Foreign Affairs from 2012 to 2016. Tedros was included in Time's 100 Most Influential People of 2020.
Tedros was a member of the Tigray People's Liberation Front, the leading group in a coalition of movements known as the Ethiopian People's Revolutionary Democratic Front in a successful bid to overthrow Mengistu Haile Mariam.
In 2001, Tedros was appointed head of the Tigray Regional Health Bureau. In 2003, he was appointed a State Minister (deputy minister) for Health, a post he held for just over a year.
Global Health
During his time as Minister of Health of Ethiopia, Tedros was very active in global health initiatives. Ethiopia was the first country to sign a compact with the International Health Partnership. He was chair of the Roll Back Malaria Partnership (2007–2009), a member of the Programme Coordinating Board of UNAIDS from 2009 to 2010 and the Global Fund to fight AIDS, Tuberculosis and Malaria from 2009 to 2011 and co-chair of the Partnership for Maternal, Newborn & Child Health (2005–2009).
He also served as a member of the Global Alliance for Vaccines and Immunization GAVI Board as well as the Institute of Health Metrics and Evaluation (IHME) and the Stop TB Partnership Coordinating Board. He was a member of several academic and global health think tanks including the Aspen Institute and vice-president of the 60th World Health Assembly 14–23 May 2007. From 2008 until 2009, he was a member of the High Level Taskforce on Innovative International Financing for Health Systems, co-chaired by Gordon Brown and Robert Zoellick.2)