Table of Contents
Vaccine Innovation Prioritisation Strategy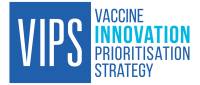 The Vaccine Innovation Prioritisation Strategy (VIPS) Alliance is a supranational collaborative initiative. It consists of the Bill & Melinda Gates Foundation, Gavi, the Vaccine Alliance, PATH, UNICEF and the World Health Organization.1)
Activities
Microarray patches
In May 2020, the VIPS Steering Committee selected and recommended three vaccine-related innovations to prioritize in order to increase uptake of vaccines. Microaray patches (MAPS) were identified as the highest priority (the other two were "heat-stable and controlled temperature chain qualified vaccines", and barcodes on primary packaging).2) During the second half of 2020 and into 2021, the VIPS Working Group published a five-year plan to develop these MAPS.
MAPS are small devices that "consist of an array of hundreds to thousands of micro-projections on a patch or backing. These micro-projections can be coated with, or are composed of, vaccine in a dry formulation." After being applied to the skin, the vaccine payload is delivered into the dermis and/or epidermis of the skin, which are rich in antigen-presenting cells. The two main types of MAPS being developed are solid-coated and dissolving.
A number of organizations are funding the development MAPS including the Bill & Melinda Gates Foundation, Biomedical Advanced Research and Development Authority (BARDA), the U.S. Centers for Disease Control and Prevention (CDC), and the World Health Organization (WHO). Developing companies include Micron Biomedical, the University of Connecticut, Vaxess, Vaxxas and Verndari.
VIPS estimates early pilot programs for MAPS will begin no earlier than 2026.
Personnel
3)
Vaccine Innovation Prioritisation Strategy.
VIPS Steering Committee members.
Gavi, the Vaccine Alliance. Retrieved August 6, 2022, from
https://archive.ph/4ZbZG