Table of Contents
Yibing Wu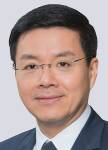 Yibing Wu is a Chinese investment banker.
Education
Career
McKinsey & Company (1996-2008)
Lenovo (2005-2008)
Wu acted as Chief Strategy Officer at Lenovo from 2005-2008.
China Social Entrepreneur Foundation (2007-present)
Legend Holdings (2008-2009)
Wu led the acquisition and integration of the IBM PC business into Legend Holdings, rising to Executive Vice-President and Managing Director of the organization in 2008.
CITIC Securities (2009-2013)
In 2009, Wu co-founded CITIC Private Equity Funds Management, a China-focused domestic private equity firm with more than US$ 13 billion in total assets under management. Whilst remaining at CITIC, in 2012, Wu joined Goldstone Investment Company (the direct investment arm of CITIC Securities) as Chairman and CEO for 18 months.4)
Temasek (2013-present)
Wu joined Temasek in October 2013 as Head of China.5) He is also the President of the Enterprise Development Group, and Joint Head of the Portfolio Strategy and Risk Group.6)
Gavi, the Vaccine Alliance
Affiliations