Table of Contents
Wellcome Trust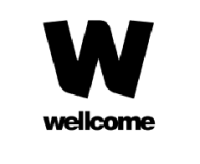 History Timeline
1853: Henry Wellcome is born in the US

1880: Burroughs, Wellcome & Co is established by Silas Burroughs and Henry Wellcome in London, UK

1936: Henry Wellcome dies and his various interests around the world are brought together as Wellcome Foundation, owned by the Wellcome Trust

1985: Wellcome Trust sells the first shares in Wellcome Foundation, which is renamed Wellcome Plc

1995: Wellcome Plc is bought by Glaxo to form GlaxoWellcome, which later becomes

GlaxoSmithKline

1995: The Wellcome Trust – or now just Wellcome – has become an independent charitable foundation

2007: Wellcome Collection opens in London

1)
Who We Are
Wellcome is a politically and financially independent global charitable foundation, funded by a £29.1 billion investment portfolio.
Our strategy includes grant funding, advocacy campaigns and partnerships to find solutions for today's urgent health challenges.
Our founder, Sir Henry Wellcome, was a pharmaceutical entrepreneur. Our governance is based on an updated version of his will, in which he left us his wealth, his collection of historical medical items, and our mission to improve health through research. How we work
Wellcome's response to the Covid-19 pandemic shows how we work with academia, philanthropy, businesses, governments, civil society and the public around the world to support science's role in solving health challenges.
Here are some of the ways we're working to overcome Covid-19 -
Advocacy, calling for urgent investment in global research and development Vaccine development through the Coalition for Epidemic Preparedness Innovation (CEPI), which Wellcome co-founded in 2017 Treatment development through support for the COVID-19 Therapeutics Accelerator Multinational clinical trials such as one led by our research programme in Thailand to test whether hydrochloroquine protects healthcare workers from Covid-19 infection Surveying attitudes to science, health and vaccines across the world, through studies such as the Wellcome Global Monitor, to inform research and policy Exploring the impact of the pandemic on mental health Genome sequencing hundreds of thousands of samples from Covid-19 infections at the Wellcome Sanger Institute, to help guide research, policies and interventions Public engagement, for example Contagious Cities, an international cultural project from 2019 that supported local conversations about epidemic preparedness Supporting the development of research leaders in regions most affected by infectious disease, as we've done through our DELTAS Africa initiative Discovery research across a broad range of disciplines, which has the potential to lead to unanticipated insights relevant to the global pandemic response. 2)
Wellcome Pandemic Response
Jeremy Farrar is a former professor at Oxford University and the head of the Wellcome Trust. This quote is from his book about his pandemic experience and imparts priceless insight into what drove official global policy decisions. It is part of an bombshell article by Jeffrey A. Tucker for Brownstone Institute titled 'The Lab Leak~ The Plots and Schemes of Jeremy Farrar, Anthony Fauci, and Francis Collins'
In the last week of January 2020, I saw email chatter from scientists in the US suggesting the virus looked almost engineered to infect human cells. These were credible scientists proposing an incredible, and terrifying, possibility of either an accidental leak from a laboratory or a deliberate release….
It seemed a huge coincidence for a coronavirus to crop up in Wuhan, a city with a superlab. Could the novel corona-virus be anything to do with 'gain of function' (GOF) studies? These are studies in which viruses are deliberately genetically engineered to become more contagious and then used to infect mammals like ferrets, to track how the modified virus spreads. They are carried out in top-grade containment labs like the one in Wuhan. 3) 4)
Wellcome Trust Launches Global Urban Health Project
February 7, 2018
The UK-based Wellcome Trust has announced the launch of a £10 million ($13.9 million) research initiative aimed at understanding how data can be used to transform cities into places that more equitably support healthier lives while also protecting the environment.
Part of the trust's Our Planet, Our Health program, the initiative comprises two urban health projects through which researchers, working closely with officials in ten cities, will gather local data and use computer modeling to test a variety of policy solutions to gauge their chances of success. Cities participating in the initiative include London (England), Rennes (France), Beijing and Ningbo (China), Nairobi and Kisumu (Kenya), Dhaka (Bangladesh), Vancouver (Canada), and Accra and Tamale (Ghana).
By 2050, 70 percent of the world's population is expected to live in cities, up from 50 percent today. Although people in cities on average are healthier than people who live in rural areas, due in large part to the concentration of economic activity and public services in urban areas, services are likely to become stretched as more people are exposed to city life, with the urban poor suffering most as a result.
The new projects join four other projects announced by the trust in 2017 focused on identifying and addressing challenges in the areas of urban health and food systems. All six projects eventually will be brought together under the aegis of the London Hub for Urban Health, Sustainability and Equality, creating one of the world's leading research centers in the field. 5)
Wellcome Trust Survey Examines Confidence in Health Care, Science
June 19, 2019 - Based on a survey of more than a hundred and forty thousand people around the world, the report, Wellcome Global Monitor: How Does the World Feel About Science and Health Topics? 6)119 pages PDF, found that while respondents in high-income countries overall were about as likely as those in lower-middle-income countries to have confidence in hospitals and clinics (78 percent and 82 percent, respectively), people who were struggling financially in upper-middle- and high-income countries were less likely to have confidence in healthcare facilities (63 percent and 68 percent) than those who were struggling in lower-middle- and lower-income countries (77 percent and 71 percent). The gap in confidence between respondents who were "living comfortably" and those who were "finding it difficult or very difficult" to get by was greatest in high-income countries (84 percent vs. 68 percent).
In addition, while 69 percent of all respondents said the work that scientists do benefits "people like them," only 41 percent believed it benefits "most" people in their country, 34 percent said it benefits "some," and 15 percent said it benefits "very few." In high-income countries, people who were "finding it difficult" to get by were about three times as likely as people who say they are "living comfortably" (14 percent vs. 5 percent) to be skeptical about whether science benefits them personally or society as a whole.
The survey also found that 92 percent of respondents globally said their children were vaccinated, while only 74 percent of North Americans agreed it was important for children to be vaccinated and 6 percent of parents worldwide said their children were unvaccinated. According to the report, 64 percent of global respondents for whom religious affiliation was an important part of daily life said they would believe their religious teachings over science.
"Science can change our understanding of the world, influence the way we live and how our communities function. We must remember that science is part of society: it needs to be done with the public, not just for them," said Simon Chaplin, director of culture and society at Wellcome Trust. "Wellcome Global Monitor has also found that alongside learning science at school or college, confidence in key national institutions such as the government, the military, and the judiciary, are among the strongest factors which relate to a person's trust in science. This is all connected. 7)
Wellcome, Pharmaceutical Firms Back UK Whole Genome Sequencing Project
September 12, 2019 - The Wellcome Sanger Institute in Hinxton, England, has announced a £200 million ($244 million) project to sequence the genomes of five hundred thousand volunteers and power the next wave of genetic and health research.
With funding of £50 million ($61 million) from the British government's research and innovation agency, UK Research and Innovation; £50 million ($61 million) from Wellcome; and contributions totaling £100 million ($122 million) from Amgen, AstraZeneca, GlaxoSmithKline, and Johnson & Johnson, the Whole Genome Sequencing project is expected to yield a rich data resource for scientists working to understand, diagnose, treat, and prevent diseases. Following a pilot project involving fifty thousand volunteers from UK Biobank — which was established in 2006 by Wellcome and UK government agencies to collect data and samples from five hundred thousand people between the ages of 40 and 69 — the Sanger Institute and deCODE genetics in Iceland will sequence the genomes of the remaining four hundred and fifty thousand volunteers.
According to project officials, the sequencing data will be linked to detailed clinical and lifestyle data for each volunteer to create an encyclopedia of genetic information that is expected to generate new insights into why some people develop particular diseases and others do not. While industry partners will have preferential access to the data for nine months before it is released to other researchers, data for the entire cohort is expected to be made accessible to the scientific and medical communities by early 2023.8)
Four reasons why we need multiple vaccines for Covid-19
November 2020 by Charlie Weller - Head of Vaccines Programme Wellcome
To bring the pandemic under control we will need to produce and roll out vaccines at a scale and speed never seen before. To meet the aim of vaccinating high-risk populations around the world by the end of 2021, we need at least 2 billion vaccine doses.
Moderna, for example, hopes to produce 500 million doses of their vaccine next year. But with each person requiring two doses to be vaccinated, it's a long way off the full number required.
We have also never licensed or scaled-up an RNA vaccine before – the technology that the Moderna and Pfizer-BioNTech vaccines use – so there may be unforeseen manufacturing issues.
By developing and investing in multiple vaccine candidates we stand a much better chance of having the volume of doses we need to get the virus under control. 9)
High Risk Life Science Research
The London-based Wellcome Trust has announced the launch of a £250 million (approximately $332 million) fund that will invest in ambitious research programs with the potential to fundamentally change science and transform health over five to ten years.
The Wellcome Leap Fund will support scientists, technologists, and innovators from around the world, enabling them to pursue bold ideas that fall outside the scope of conventional life sciences funding because they are deemed too high risk, because they need to overcome a major scientific or technical hurdle, or because the individual with the idea does not have an academic background in the life sciences. The fund, which plans to begin funding projects by late 2020, seeks to support unconventional ideas and bring together outstanding individuals from a range of disciplines and sectors to work in parallel on solving problems. 10)
January 2022
London-based Wellcome has announced its intention to invest £16 billion ($21.79 billion) over the next decade in scientific research focused on addressing global health challenges, the largest funding commitment to science and health in its eighty-five-year history.
With an investment portfolio now worth £38.2 billion ($52.02 billion) — as a result of the strongest annual investment returns the organization has seen in twenty-five years (33 percent, adjusted for inflation) — Wellcome will boost funding to advance its new strategy, announced in 2020 and focused on mental health, infectious disease, and the health impacts of climate change. Over the last decade, the organization spent more than £9 billion ($12.25 billion) on research grants and other charitable activities, including £1.2 billion ($1.63 billion) in the 2020-21 fiscal year. Wellcome also committed an additional £750 million ($1.02 billion) to fund large-scale, high-impact projects over the next five years, which it anticipates will grow to £1 billion ($1.36 billion) next year.
As part of its new strategy, Wellcome will support cross-sector collaborations such as the Coalition for Epidemic Preparedness Innovations (CEPI), a public-private partnership Wellcome co-founded in 2017 that has played a pivotal role in bolstering COVID-19 response efforts and pandemic preparedness.
"These returns mark a step-change in Wellcome's ability to fund and support new discoveries in science and health, and help solve three of the great challenges of the twenty-first century — climate change, infectious diseases, and mental health," said Wellcome director Jeremy Farrar. "With plans to spend £16 billion on our mission over the next decade, we will be increasing our spending from the previous decade by more than 50 percent. This gives us a huge opportunity to increase our support for scientific research that will make a real difference to people everywhere in the years to come." 11)
==== Epidemic Preparedness RFP ====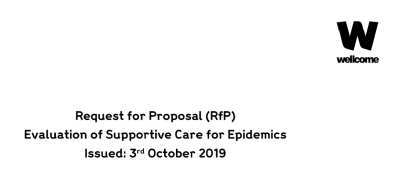 The Wellcome Trust (the 'Trust', 'Wellcome') is the world's second highest spending global charitable foundation, and a unique scientific and cultural institution of global significance, scale and achievement. It is both politically and financially independent. Wellcome supports researchers, takes on big problems and sparks debate to improve health on a global level.
Our funding supports over 14,000 people in more than 70 countries to explore ideas, seek solutions and improve the human condition through science, population health, medical innovation, humanities and social sciences and public engagement.
The focus of this RfP is supportive care for high-risk or epidemic diseases. Supportive care is the baseline medical care that a patient receives after becoming ill with disease, and optimal provision of supportive care is fundamental to effective epidemic preparedness and response.
The care a patient receives during an outbreak not only affects an individual's wellbeing and livelihood, but can also impact the shape of an outbreak at the population level by influencing the transmissibility of disease, health system resourcing and community trust. The level and quality of care provided to patients also impacts the field evaluation of experimental vaccines
The successful supplier will be expected to spend time at the WHO Headquarters in Geneva, and will be able to work at the Wellcome London office, or remotely, depending upon convenience. The successful supplier will report to Dr. Peter Hart (Wellcome Epidemics Project Officer) on a day-to-day basis and will be accountable to the below panel who will provide guidance and direction to the project throughout.
Epidemics SCG (ESCG) panel
▪ Dr. Josie Golding – Programme Manager, Epidemics (Wellcome)

▪ Dr. Peter Hart – Project Officer, Epidemics (Wellcome)

▪ Dr. Cathy Roth – Senior research fellow, Department for International Development (UK

Government)

▪ Dr. Marie-pierre Preziosi – R&D Blueprint co-lead (WHO)

▪ Dr. Gail Carson – Chair, Research Subgroup (GOARN)

▪ Dr. Janet Diaz – Team Lead, Clinical Management, Health Emergency Programme (WHO)

▪ Dr. Ismaila Mamane Sani – Ministry of Health, Republic of Niger
Wellcome will provide the successful supplier with the following sources of information and relevant stakeholder connections for the duration of the evaluation, to help them answer these research questions-
• A top-line briefing on the history to the project including details of discussions with

relevant parties and sources of information

• A list of networks, stakeholders and meetings relevant to epidemics and the planned

project

• Access to panel for input requests and/or project guidance

12)
Woke Wellcome
At Wellcome, the Pride logo represents the changes we want to see in how we operate as a funder and employer, and the changes we want to see in research culture and the wider science and research sector. We're proud that many Wellcome-funded centres are changing their logos too.
We've changed our logo on our social channels and on our homepage banner based on the Pride flag design by Daniel Quasar. It builds on the usual Pride flag by adding stripes that emphasise groups within the LGBTQ+ community that often experience marginalisation. 13)
This includes-
trans and non-binary people – represented by the white, light pink and light blue stripes

LGBTQ+ people of colour – represented by the brown and black stripes

people living with AIDS and those who have died from it – represented by the black stripe.
Developed in collaboration with our LGBTQ+ network at Wellcome, we're launching a new trans inclusion policy for our staff. 14)