Table of Contents
Suzanne Solven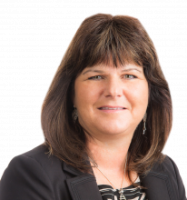 Suzanne Solven, RPh is a Canadian regulatory official based in Vancouver, British Columbia. She is notable during the COVID-19 pandemic due to her role at the College of Pharmacists of British Columbia.
Career and Affiliations
Government of British Columbia (1993-2006)
Solven spent 13 years working with the Government of British Columbia as both Executive Director and Senior Pharmacist of the BC PharmaCare program. In these roles, she led inter-professional drug policy initiatives such as evidence-based drug review processes, limited-use drug coverage, special authorization expert committees and standardized product listing agreements. She was also a provincial partner in the development of the Common Drug Review.
College of Pharmacists of British Columbia (2007-2016)
Health Professions Act
One of Solven's first major actions at the College was contributing to the transition to the Health Professions Act in 2009. She also played a key role in the government submission to expand the pharmacist's scope of practice to include prescription adaptations.
Methadone
Solven has also been integral in the College's work on methadone maintenance treatment. She invested her time in building stakeholder relationships with many groups, including patient advocacy groups to ensure their perspectives were incorporated into the initiative. She led the development of the Methadone Maintenance Treatment Action Plan and oversaw more than 20 focused inspections and 2 pharmacy suspensions related to methadone.
Further to her work on methadone, Suzanne was very involved in the College's discipline cases. As the staff resource on the Inquiry and Discipline Committees, she supported the committees to take action in the interest of public safety.3)
She also took on the task of making changes to the Pharmacy Operations and Drug Scheduling Act that allow the College to know the identities of current and potential pharmacy owners.
She led the College's preparedness on medical assistance in dying. She took a leadership role provincially along with Health Authorities, the BC Ministry of Health and other regulatory Colleges to ensure that pharmacists and pharmacy technicians clearly understood the College's expectations throughout the quickly changing legal landscape.
Pacific Blue Cross (2016-2022)
Starting in July 2016, Solven worked in various positions at Pacific Blue Cross.4) From December 2018 until January 2022, she was the Associate Vice President of Audit, Investigations and Quality Assurance, where she led both the Fraud Investigation Branch and the Internal Audit Branch.5)
College of Pharmacists of British Columbia (2022-present)
University of British Columbia