Table of Contents
SAGE - The Scientific Advisory Group for Emergencies
The Scientific Advisory Group for Emergencies (SAGE) is a British Government body that advises central government in emergencies. It is usually chaired by the United Kingdom's Chief Scientific Adviser, currently Sir Patrick Vallance. Specialists from academia and industry, along with experts from within government make up the participation, which will vary depending on the emergency.
The aim of Independent SAGE is to provide robust, independent advice to HM Government with the purpose of helping the UK navigate COVID-19 whilst minimising fatalities. Please READ MORE for more details 1)
SAGE Members 2020 site list
Members of the Independent Sage committee
CHAIR Sir David Anthony King Emeritus Professor in physical chemistry at the University of Cambridge, Director of the Collegio Carlo Alberto and Chancellor of the University of Liverpool
Members Professor Gabriel Scally President of Epidemiology & Public Health section, Royal Society of Medicine
Professor Allyson Pollock Co-director of the Newcastle University Centre for Excellence in Regulatory Science.
Professor Anthony Costello Director of the Institute for Global Health, University College London.; former Director at WHO
Professor Karl Friston FRS Computational modeller and neuroscientist at UCL in charge of developing a generative SEIR COVID19 model
Professor Susan Michie Professor of Health Psychology and Director of the Centre for Behaviour Change at University College London, member of SPI(B), SAGE sub-committee
Professor Deenan Pillay Professor of Virology UCL, former SAGE member
Professor Kamlesh Khunti Professor of Primary Care & Diabetes, University of Leicester
Professor Christina Pagel Mathematician and professor of operational research, UCL
Dr Zubaida Haque Deputy Director Runnymede Trust. Commissioner on the Women's Budget Group Commission on a Gender-Equal Economy and a Fellow of the Royal Society of Arts.
Professor Martin McKee Professor of European Public Health at the London School of Hygiene and Tropical Medicine
Dr Alison Pittard Dean of the Faculty of Intensive Care Medicine, UK
SAGE Recommendations as of June 2020 Wayback 3)
SAGE Membership Leaked List
Who's who on secret scientific group advising UK government? Scientific Advisory Group for Emergencies (Sage) is advising cabinet on coronavirus response
The Guardian by Ian Sample Science editor - Fri 24 Apr 2020
On Friday the Guardian revealed the 23 attendees of the Scientific Advisory Group for Emergencies (Sage). They comprise 21 scientists and two Downing Street political advisers.4)
Sir Patrick Vallance, chief scientific officer The government's chief scientific adviser and former president of research and development at GlaxoSmithKline. In the run-up to the EU referendum he warned that a vote for Brexit would mean uncertainty for future drug development.
Prof Chris Whitty, England's chief medical officer A doctor and epidemiologist with an enormous reputation among colleagues, he has devoted much of his career to malaria research in Africa. Previously chief scientific adviser at the Department for International Development and the Department of Health.
Prof Jonathan Van-Tam, deputy chief medical officer An expert in influenza and respiratory viruses, Van-Tam is a professor of health protection at the University of Nottingham's school of medicine and sat on Sage during the 2009 swine flu pandemic.
Prof Stephen Powis, national medical director of NHS England A professor of renal medicine at University College London, he was the leading voice calling for former health workers to return to the NHS to help deal with the pandemic.
Prof Sharon Peacock, director of the National Infection Service at Public Health England (PHE) The professor of public health and microbiology at the University of Cambridge department of medicine told MPs on the science and technology committee in March that antibody testing kits would be available for mass testing within days, but the tests failed quality checks.
Maria Zambon, director of Reference Microbiology Services at PHE and head of the UK World Health Organization National Influenza Centre Zambon is known as a thorough and extremely competent scientist. She is medically qualified and a specialist on RNA viruses, antivirals and vaccines.
Meera Chand, consultant microbiologist at PHE Chand worked on the UK's response to the Ebola epidemic and has expertise in infectious diseases including influenza, diphtheria, scarlet fever and monkeypox.
Prof Charlotte Watts, chief scientific adviser to the Department for International Development Watts is on secondment from the London School of Hygiene and Tropical Medicine where she is a professor of social and mathematical epidemiology.
Prof John Aston, Home Office chief scientific adviser A specialist in applied statistics, Aston joined the government in 2017 after stepping down as a trustee of the Alan Turing Institute.
Angela McLean, professor of mathematical biology at Oxford University's department of zoology McLean is the government's deputy chief scientific adviser and chief scientist at the Ministry of Defence. She often speaks at the No 10 press conferences and has said that the number of hospital admissions "is not as bad as it could have been" had lockdown not been put in place.
Ian Diamond, head of the Government Statistical Service and chief executive of the UK Statistics Authority The nation's statistician, Diamond prompted an investigation over a £282,00 payment when he stepped down as principal at the University of Aberdeen.
Graham Medley, professor of infectious disease modelling at the London School of Hygiene and Tropical Medicine Medley was one of the first scientists to elaborate on the herd immunity strategy. He told Newsnight he'd like to "put all the more vulnerable people into the north of Scotland … everybody else into Kent and have a nice, big epidemic in Kent, so that everyone becomes immune".
Neil Ferguson, professor at Imperial College London faculty of medicine Head of the Imperial College modelling team whose work predicted half a million deaths in Britain and is credited with prompting the government to impose the lockdown.
Prof John Edmunds, specialist in design of control programmes against infectious diseases at the London School of Hygiene and Tropical Medicine A leader in disease modelling and analysis, Edmunds warned that Italy's lockdown might prove unsustainable and has argued against banning exercise outdoors on the grounds that it has a negligible impact on the spread of the disease but benefits for mental health and wellbeing.
James Rubin, reader in psychology of emerging health risks, Kings College London Rubin has studied how people respond to all manner of perceived health risks, from nuclear meltdowns and the Ebola outbreak to mobile phone signals and novichok nerve agents.
Brooke Rogers, professor of behavioural science and security at Kings College London and chair of the Cabinet Office National Risk Assessment Behavioural Science Advisory Group Rogers specialises in threat and risk communication, and is a strong advocate of basing interventions on evidence.
Peter Horby, former professor of infectious diseases and global health at University of Oxford and chair of the government's New and Emerging Respiratory Virus Threats Advisory Group (Nervtag) Horby ran Ebola trials in West Africa and the Democratic Republic of the Congo, and is now heading up the major Recovery trial into drugs for coronavirus.
Jeremy Farrar, director of the Wellcome Trust One of the few members of Sage who has made their membership public. Farrar is a medical researcher and former head of Oxford's clinical research unit in Ho Chi Minh City. He has said Britain is on course to be among the worst, if not the worst, affected country in Europe.
Andrew Rambaut, member of the Institute of Evolutionary Biology at Edinburgh University's school of biological sciences A leading geneticist who specialises in the evolution of emerging human viruses. His recent work showed that the coronavirus may have spread to humans via pangolins but "clearly" wasn't created in a lab or purposefully manipulated.
Emma Reed, director of emergency response and health protection at the Department of Health and Social Care Reed worked on the government's Ebola response and has coordinated programmes to reduce childhood obesity and diabetes.
Dr Edward Mullins, clinical adviser to the chief medical officer Mullins is a clinical lecturer at Imperial College and an obstetrics and gynaecology registrar at Queen Charlotte's and Chelsea hospital, London. He has previously worked with Dame Sally Davies, England's former chief medical officer.
Dominic Cummings, chief adviser to the prime minister Former director of the Vote Leave campaign who famously advertised for "weirdos and misfits with odd skills" to advise government.
Ben Warner, Downing Street adviser on data science The Vote Leave campaign's data specialist joined No 10 after running the private election model that predicted the 2019 landslide victory for the Tories.5)
SAGE Leak
The prime minister's chief political adviser, Dominic Cummings, and a data scientist he worked with on the Vote Leave campaign for Brexit are on the secret scientific group advising the government on the coronavirus pandemic, according to a list leaked to the Guardian.
It reveals both Cummings and Ben Warner were among 23 attendees present at a crucial convening of the Scientific Advisory Group for Emergencies (Sage) on 23 March, the day Boris Johnson announced a nationwide lockdown in a televised address.
Who's who on secret scientific group advising UK government?
Multiple attendees of Sage told the Guardian that both Cummings and Warner had been taking part in meetings of the group as far back as February. The inclusion of Downing Street advisers on Sage will raise questions about the independence of its scientific advice.
The New York Times reported on Thursday that Sage operates in "a virtual black box". "Its list of members is secret, its meetings are closed, its recommendations are private and the minutes of its deliberations are published much later, if at all."
The Guardian understands that Sage first met for a precautionary meeting to discuss Covid-19 on 22 January, then again on 28 January. It met a further nine times in February, and 10 times in March. It is currently meeting around twice a week.
It understood that while the chief medical officers and chief scientific advisers of the devolved administrations in Scotland, Wales and Northern Ireland have been allowed to listen in on Sage meetings, they have been doing so as observers. Unlike Cummings and Warner, they were not allowed to ask questions, having to instead submit them in writing in advance.
While core members of the committee, such as Whitty, attend all meetings, other clinical experts, scientists and epidemiologists do not attend every meeting, but can be asked in on a rotating basis to provide specific advice. Sage tends to be guided by specific questions that they are asked to consider by the Cabinet Office's emergency Cobra meetings.
Other Sage participants at the 23 March meeting included Sharon Peacock, the director of the National Infection Service at Public Health England, and Ian Diamond, the head of the Government Statistical Service. Neil Ferguson, the Imperial College epidemiologist whose models have been central to government decision–making, was also present, along with fellow infectious disease specialists, Graham Medley and John Edmunds.
Others attendees included Brooke Rogers, a professor of behavioural science at King's College – who also chairs the Cabinet Office's National Risk Assessment – and James Rubin, also at King's, who chairs a SAGE subcommittee that provides specific advice on behavioural science.
However it is the inclusion of two Downing Street political advisers that will raise questions over whether the structure of the government's scientific advisory process is free from political interference.
A source in Downing Street said that in March Cummings was playing a commanding role in responding to the Covid-19 outbreak. Cummings is understood to be close to Warner, whose brother, Marc, runs Faculty, an artificial intelligence company that the Guardian revealed is involved in an "unprecedented" data-mining operation that is part of the government's response to the coronavirus outbreak. 6)
An accomplished data scientist, Ben Warner previously worked at his brother's AI company, which has teamed up with with Palantir, the US data firm founded by the rightwing billionaire Peter Thiel, to consolidate UK government databases to help ministers respond to the pandemic. 7)
WHO's SAGE Safety Opinion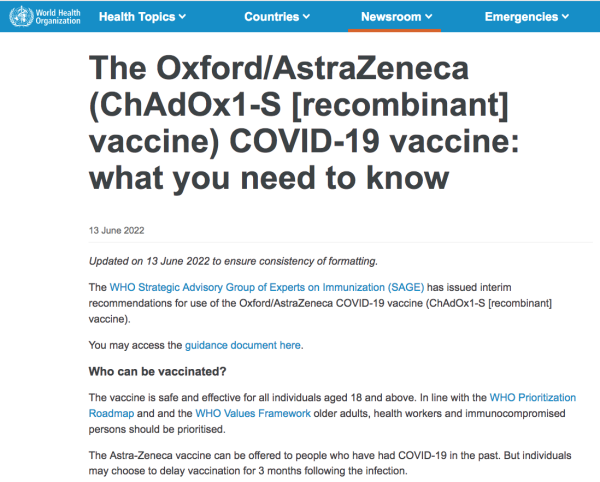 The Oxford/AstraZeneca (ChAdOx1-S [recombinant] vaccine) COVID-19 vaccine: what you need to know 13 June 2022 العرب
The WHO Strategic Advisory Group of Experts on Immunization (SAGE) has issued interim recommendations for use of the Oxford/AstraZeneca COVID-19 vaccine (ChAdOx1-S [recombinant] vaccine).
You may access the guidance document here. 8)
Who can be vaccinated?
The vaccine is safe and effective for all individuals aged 18 and above. In line with the WHO Prioritization Roadmap and and the WHO Values Framework older adults, health workers and immunocompromised persons should be prioritised.
The Astra-Zeneca vaccine can be offered to people who have had COVID-19 in the past. But individuals may choose to delay vaccination for 3 months following the infection.
Should pregnant and breastfeeding women be vaccinated?
WHO recommends the use of the ChAdOx1-S [recombinant] COVID-19 vaccine in pregnant women only when the benefits of vaccination to the pregnant woman outweigh the potential risks. To help pregnant women make this assessment, they should be provided with information about the risks of COVID-19 in pregnancy, the likely benefits of vaccination in the local epidemiological context, and the current limitations of safety data in pregnant women.
WHO does not recommend pregnancy testing prior to vaccination. WHO does not recommend delaying pregnancy or terminating pregnancy because of vaccination.
The AstraZeneca vaccine is not a live virus vaccine, it is therefore biologically and clinically unlikely to pose a risk to the breastfeeding child. WHO does not recommend discontinuing breastfeeding because of vaccination. Who is the vaccine not recommended for?
People with a history of severe allergic reaction to any component of the vaccine should not take it.
The vaccine is not recommended for persons younger than 18 years of age pending the results of further studies.
Is it safe?
The Global Advisory Committee on Vaccine Safety, a group of experts that provides independent and authoritative guidance to the WHO on the topic of safe vaccine use, receives and assesses reports of suspected safety events of potentially international impact.
Is a booster dose recommended for this vaccine?
A booster dose may be considered 4 – 6 months after completion of the primary vaccination series, starting with the higher priority-use groups, in accordance with the WHO Prioritization Roadmap.
The benefits of booster vaccination are recognized following increasing evidence of waning vaccine effectiveness against mild and asymptomatic SARS-CoV-2 infection over time.
The need for, and timing of, booster doses for children aged 5-11 years has not yet been determined.
Can this vaccine be 'mixed and matched' with other vaccines?
SAGE accepts two heterologous doses of WHO EUL COVID-19 vaccines as a complete primary series.
For countries considering heterologous schedules, WHO has made recommendations to ensure equivalent or favourable immunogenicity or vaccine effectiveness for heterologous versus homologous schedules:
The Astra-Zeneca vaccine recommendations have also been modified to indicate that either of the mRNA COVID-19 vaccines (Pfizer or Moderna) can be used as a second dose following a first dose with the AstraZeneca vaccine dependant on product availability.

The Astra-Zeneca vaccine can be used as a second dose following any WHO EUL COVID-19 inactivated vaccines (Sinopharm, Sinovac or Bharat) dependant on product availability.
When considering booster vaccination after having been vaccinated with ChAdOx1-S [recombinant] COVID-19 [Astra Zeneca] vaccine for the primary series, SAGE considers using a different type of COVID-19 vaccine for a third dose a more favourable option. However, maintaining a homologous schedule is still acceptable.
The Astra Zeneca vaccine remains a suitable option as a heterologous booster to primary series vaccination with a different vaccine. Does it prevent infection and transmission?
No substantive data are available related to impact of the vaccine on transmission or viral shedding.
In the meantime, we must maintain and strengthen public health and social measures that work: masking, physical distancing, handwashing, respiratory and cough hygiene, avoiding crowds, and ensuring good ventilation. 9)