Table of Contents
COVID-19 Vaccine Propaganda
There is so much COVID-19 Vaccine propaganda that governments, industry, and media have scarcely offered denials.
Propaganda as Coercion
NIAID chief Dr. Anthony Fauci stated during an MSNBC interview while talking about China that lockdowns are needed to get people vaccinated.1)
Propaganda in Scientific Journals
Propaganda by Government and Directed to Children
The Saskatchewan Heath Authority (SHA) published a video series "Kids Talk to Docs", specifically directed to young children. One of the videos in the series is entitled, "Can I Play With Unvaccinated Friends?", in which a very young child asks, "What if my friends don't get the vaccine; can I still play with them?" Dr. Tania Diener, Medical Health Officer for SHA answers, "I think it is really important that everyone you are going to play with are vaccinated." Dr. Diener then directs this child to ask her friend "why he or she doesn't want to get vaccinated."
Propaganda in the Media
October 27, 2021 - An article in the Australian publication, The Conversation, states the unbalanced view that the unvaccinated are "20 times more likely to give you COVID" despite citing no evidence that vaccination reduces transmission.

3)
"Unavaccinated" Documentary
More updates on BBC2 documentary "Unvaccinated"

4)
Washington Post's Safe & Effective Science
Your questions about coronavirus vaccines, answered (much more at site)
By Carolyn Y. Johnson, Aaron Steckelberg, Lena H. Sun, Laurie McGinley, Allyson Chiu and Marisa Iati Updated May 24. 2021
Five months after the first coronavirus vaccine doses were administered to U.S. health-care workers, the Centers for Disease Control and Prevention announced May 13 that fully immunized people can safely resume most of their pre-pandemic activities. As vaccine supply outstrips demand, health officials are trying to persuade holdouts to get their shots. Here are answers to some frequent questions.
What can I do after I get vaccinated? Can I return to my old activities?
The CDC says that if you are fully vaccinated, you can resume all your usual activities without masks or physical distancing in most cases, even when you are indoors or in large groups. However, you still need to follow guidance at your workplace and any rules in effect at any businesses you visit, as well as state and local restrictions, if those are more stringent.
If you travel, you are still required to wear a mask on planes, buses, trains and other forms of public transportation.
You are considered fully vaccinated two weeks after you receive the one-dose Johnson & Johnson shot, or two weeks after the second dose of either the Pfizer-BioNTech or Moderna vaccine.
Even after that point, you should still watch out for symptoms of covid-19, especially if you've been around someone who is sick. If you have symptoms, you should get tested and stay home and away from others.
If you have a compromised immune system, or are taking medications such as steroids that weaken the immune system, you should talk to your health-care provider to discuss your activities. You may need to keep taking precautions to prevent covid-19.
You do not need to quarantine or be tested if you are exposed to the virus as long as you do not develop symptoms. Fully vaccinated employees of high-density workplaces, such as meatpacking plants, who do not have symptoms also do not need to quarantine after an exposure. But a test is recommended to be certain.
Fully vaccinated international travelers coming to the United States are still required to get tested within three days of their arrival or show documentation that they've recovered from covid-19 in the past three months. They should still get tested three to five days after their trip.
The CDC updated its previously more cautious guidance on May 13, citing falling infection rates in the United States and real-world evidence of the effectiveness of the coronavirus vaccines even against more contagious variants circulating in the country. Officials also noted the rarity of breakthrough infections in those who are fully vaccinated and the lesser severity of the relatively few infections that have occurred.
What if I have a compromised immune system? What if I have children who cannot yet get vaccinated? What you need to know about the vaccines Are the vaccines safe?
All the vaccines authorized by the Food and Drug Administration — Pfizer-BioNTech, Moderna and Johnson & Johnson — passed rigorous safety reviews. Some experts expressed qualms about using emergency-use authorizations for coronavirus vaccines that would be given to hundreds of millions of people, but those criticisms have become muted as the pandemic has raged, killing thousands of Americans a week.
Peter Marks, director of the FDA center that oversees vaccines, pledged to use an emergency standard roughly equivalent to what is needed for a full licensure. Even so, the available safety data — two months of follow-up on half the trials' participants after their second shots — is shorter than in traditional trials. And some questions, such as the duration of protection, cannot be answered now. That data will be collected as the trials continue. What are the possible side effects?
Before authorizing the Pfizer-BioNTech vaccine for people ages 16 and over, the FDA reviewed data from 44,000 participants in a randomized clinical trial. A 53-page analysis by the agency found that some people who received injections had unpleasant but tolerable side effects, including fatigue, headaches, muscle pain, joint pain, chills and fever.
For adolescents, the most common side effects of the Pfizer-BioNTech vaccine were similar to those seen in adults but occurred somewhat more frequently. For example, 63 percent of participants 16 and older reported fatigue, but 78 percent of those 12 to 15 years old did. The vaccine also has caused very rare anaphylactic reactions.
The FDA cleared the Moderna vaccine for people ages 18 and over, based on data from a clinical trial with 30,000 participants. The agency found that its side effects were similar to those with the Pfizer-BioNTech shot. For both Pfizer-BioNTech and Moderna, side effects were most common after the second dose. 5)
White House Vaccine Propaganda & Censorship Policy
White House - Press Briefing July 15, 2021
by Press Secretary Jen Psaki and Surgeon General Dr. Vivek H. Murthy, July 15, 2021
As all of you know, we've come a long way in our fight against COVID-19, and we've come a long way thanks to the efforts of many, many people across communities in the United States.
  But right now, we are seeing COVID deaths markedly down from their peak in January. We have 160 million people who have been fully vaccinated. And hundreds of thousands of people each day are choosing to get vaccinated. That is all good news.  
But we are not out of the woods yet. Millions of Americans are still not protected against COVID-19, and we are seeing more infections among those who are unvaccinated. And that's why I want to talk to you today about one of the biggest obstacles that's preventing us from ending this pandemic.  
Today, I issued a Surgeon General's Advisory on the dangers of health misinformation. Surgeon General Advisories are reserved for urgent public health threats. And while those threats have often been related to what we eat, drink, and smoke, today we live in a world where misinformation poses an imminent and insidious threat to our nation's health.  
Health misinformation is false, inaccurate, or misleading information about health, according to the best evidence at the time. And while it often appears innocuous on social media apps and retail sites or search engines, the truth is that misinformation takes away our freedom to make informed decisions about our health and the health of our loved ones.  
During the COVID-19 pandemic, health misinformation has led people to resist wearing masks in high-risk settings. It's led them to turn down proven treatments and to choose not to get vaccinated. This has led to avoidable illnesses and death. Simply put, health [mis]information has cost us lives.  
Now, health misinformation didn't start with COVID-19. What's different now though is the speed and scale at which health misinformation is spreading. Modern technology companies have enabled misinformation to poison our information environment with little accountability to their users. They've allowed people who intentionally spread misinformation — what we call "disinformation" — to have extraordinary reach.  
They've designed product features, such as "Like" buttons, that reward us for sharing emotionally-charged content, not accurate content. And their algorithms tend to give us more of what we click on, pulling us deeper and deeper into a well of misinformation.  
Now, we need an all-of-society approach to fight misinformation. And that's why this advisory that I issued today has recommendations for everyone.  
First, we include recommendations for individuals and families. We ask people to raise the bar for sharing health information by checking sources before they share, to ensure that information is backed by credible, scientific sources. As we say in the advisory, "If you're not sure, don't share."  
Second, we're asking health organizations to proactively address misinformation with their patients. Today, the American Academy of Pediatrics is announcing an educational campaign to help parents navigate online health information. I'm encouraged to see this commitment. And, again, this is just the beginning.  
Third, we're asking educational institutions to help improve health information literacy.  
We're asking researchers and foundations as well to help us learn more about how health [mis]information spreads and how to stop it.  
Today, the Rockefeller Foundation is announcing a $13.5 million commitment to counter health misinformation. The Digital Public Library of America is announcing that they will convene a set of librarians, scholars, journalists, and civic leaders to confront health misinformation together.  
Fourth, we're saying we expect more from our technology companies. We're asking them to operate with greater transparency and accountability. We're asking them to monitor misinformation more closely. We're asking them to consistently take action against misinformation super-spreaders on their platforms.
  Fifth, we're also asking news organizations to proactively address the public's questions without inadvertently giving a platform to health misinformation that can harm their audiences.  
And sixth, we know that government can play an important role too by investing in research, by bringing individuals and organizations together to address misinformation, and by supporting groups that are working on this issue.  
On a personal note, it's painful for me to know that nearly every death we are seeing now from COVID-19 could have been prevented. I say that as someone who has lost 10 family members to COVID and who wishes each and every day that they had had the opportunity to get vaccinated.  
I say that also as a concerned father of two young children who aren't yet eligible for the vaccine, but I know that our kids are depending on all of us to get vaccinated to shield them from this virus.
  Every week, I talk to doctors and nurses across our country who are burning out as they care for more and more patients with COVID-19 who never got vaccinated — all too often because they were misled by misinformation.
  We must confront misinformation as a nation. Every one of us has the power and the responsibility to make a difference in this fight. Lives are depending on it.  
You can read the full advisory at SurgeonGeneral.gov/HealthMisinformation.6)  
And I hope that you will see it as I do — as a starting point from which we can build a healthier information environment, safeguard our nation against future threats, and ultimately, empower people to lead healthier lives.7)
FOR IMMEDIATE RELEASE - July 15, 20218)
Johns Hopkins - Surgeon General's Verified Source for Accurate Info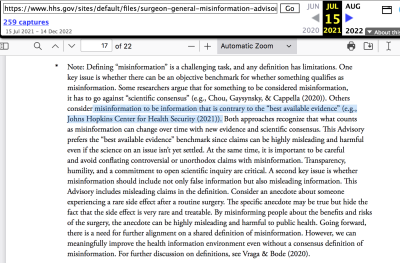 Move with urgency toward coordinated, at- scale investment to tackle misinformation.
Assess funding portfolios to ensure meaningful, multi-year commitments to promising research and programs.
Invest in quantifying the harms of misinformation and identifying evidence-based interventions.
Focus on areas facing private and public funding gaps.
Examples could include independent and local journalism, accountability mechanisms for platforms, and community-based health literacy programs. Provide training and resources for grantee
Deploy new messaging and community engagement strategies, including partnerships with trusted messengers. Proactively and rapidly release accurate, easy-to-understand health information in online and in-person settings. Invest in fact-checking and rumor control mechanisms where appropriate
Note: Defining "misinformation" is a challenging task, and any definition has limitations. One key issue is whether there can be an objective benchmark for whether something qualifies as misinformation.
Some researchers argue that for something to be considered misinformation, it has to go against "scientific consensus" (e.g., Chou, Gaysynsky, & Cappella (2020)). Others consider misinformation to be information that is contrary to the "best available evidence" (e.g.,Johns Hopkins Center for Health Security (2021)).
Both approaches recognize that what counts as misinformation can change over time with new evidence and scientific consensus. This Advisory prefers the "best available evidence" benchmark since claims can be highly misleading and harmful even if the science on an issue isn't yet settled. At the same time, it is important to be careful and avoid conflating controversial or unorthodox claims with misinformation.
Transparency, humility, and a commitment to open scientific inquiry are critical. A second key issue is whether misinformation should include not only false information but also misleading information.
This Advisory includes misleading claims in the definition. Consider an anecdote about someone experiencing a rare side effect after a routine surgery. The specific anecdote may be true but hide the fact that the side effect is very rare and treatable. By misinforming people about the benefits and risks of the surgery, the anecdote can be highly misleading and harmful to public health.
Going forward, there is a need for further alignment on a shared definition of misinformation. However, we can meaningfully improve the health information environment even without a consensus definition of misinformation. For further discussion on definitions, see Vraga & Bode (2020).9) Contact: OSG Press Office 202-690-6343 - OSGPress@hhs.gov
2023 - COVID-19 misinformation in Canada cost at least 2,800 lives
MSN Story by Darren Major Jan 26, 2023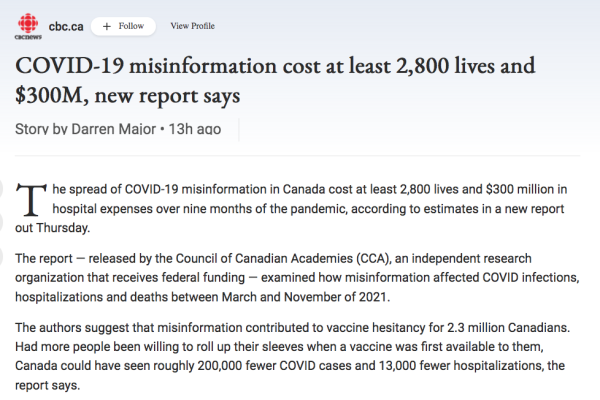 The spread of COVID-19 misinformation in Canada cost at least 2,800 lives and $300 million in hospital expenses over nine months of the pandemic, according to estimates in a new report out Thursday.
The report — released by the Council of Canadian Academies (CCA), an independent research organization that receives federal funding — examined how misinformation affected COVID infections, hospitalizations and deaths between March and November of 2021.
The authors suggest that misinformation contributed to vaccine hesitancy for 2.3 million Canadians. Had more people been willing to roll up their sleeves when a vaccine was first available to them, Canada could have seen roughly 200,000 fewer COVID cases and 13,000 fewer hospitalizations, the report says.
Alex Himelfarb, chair of the expert panel that wrote the report, said that its estimates are very conservative because it only examined a nine-month period of the pandemic.
"It's pretty clear that tens of thousands of hospitalizations did occur because of misinformation," Himelfarb told reporters. "We are confident that those are conservative estimates."
Himelfarb also said the $300 million estimate covers only hospital costs — the study didn't include indirect costs associated with factors such as delayed elective surgeries and lost wages.
A number of studies have found that getting vaccinated can reduce the risk of COVID infection and hospitalization. But only 80 per cent of Canadians have been fully vaccinated, according to the latest data from Health Canada.10)