Table of Contents
Center for Countering Digital Hate
The Center for Countering Digital Hate (CCDH), formerly Brixton Endeavours Limited, is a non-profit organization based in London, England, with a second branch of the organization based in Washington, D.C.1)
History
Founding
CCDH was founded on October 19, 2018 by Imran Ahmed, originally registering the company under the name Brixton Endeavours Limited. It changed its name to Center for Countering Digital Hate in August 2019.2)
On April 23, 2021, its US office was registered as a nonprofit organization in the United States with an effective date of December 11, 2020.3)
CCDH Dark Money and Imran Ahmed
Substack Disinformation Chronicles - Paul D. Thacker Oct 2, 2023
Corporate Liberals Weaponize Claims of Hate to Censor the Left and Conservatives How did so many Americans fall for a dark money operative claiming expertise on antisemitism, vaccines, tech companies, hate, Big Pharma, disinformation, FDA regulation and—what have I missed?
I want to explain how I uncovered Ahmed's hidden money, alleged ties to British intelligence, and links to a shady nonprofit called Stop Funding Fake News that destroyed the Canary—a British leftist news site aligned with the Jeremy Corbyn leftist arm of Labour. Before that, I want to point out about how odd it is that a British political operative is now running a partisan campaign in the United States. This rarely happens.
For a variety of complex reasons, British political operatives don't come to the United States, Americans go to England. Not just the UK, but wherever a political party needs top advice to win a campaign, they hire Americans: Israel, Argentina, Latin America, Europe…. Few know this, but a former colleague from my time in the Senate, Jim Messina, was hired by British politicians and helped push through Brexit, although by accident. Putting Brexit up for vote was a political ploy designed to quiet British critics of the EU, but this backfired when the issue then passed. The FT has a deep dive on Messina's many political failures in the UK, Italy, Spain, and other countries—see here.
Understanding how global political advice operates, I became very intrigued by Imran Ahmed's ability to hop from London to DC, raise $1.5 million in dark money for the Center for Countering Digital Hate, and then have a 2021 report he put out become fodder for a White House press conference and hearings in Congress.
I'm still not certain who is controlling Ahmed, but I plan to write more on him over the next couple of weeks, investigating his ties to various political groups in the United States and to Peter Hotez, an American physician, an ardent proponent of Anthony Fauci and cheerleader in the national media for vaccines and Biden administration pandemic policies.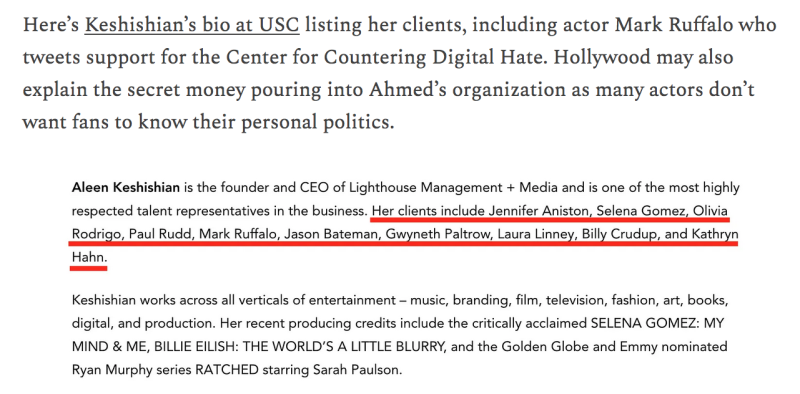 First, take a look Imran Ahmed and the documents and money trail I uncovered to report Imran Ahmed for Tablet;
The New Push for Censorship Under the Guise of Combating Hate; How an obscure British nonprofit came to influence White House COVID policy and lead attacks on Elon. Musk.4)
Activities
Publications
Organization
Personnel
External links
Further reading