Table of Contents
Tom Frieden
Official Bio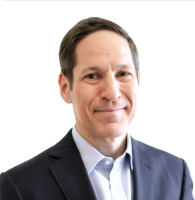 Thomas R. Frieden is an American infectious disease and public health physician. He serves as president and CEO of Resolve to Save Lives, a $225 million, five-year initiative to prevent epidemics and cardiovascular disease. - Wikipedia
CDC Director Announcement
For Immediate Release: June 8 2009 Contact: CDC′s Division of Media Relations (404) 639-3286
Thomas R. Frieden, MD, MPH, begins role as CDC Director and ATSDR Administrator
Thomas R. Frieden, M.D., M.P.H., today became the 16th director of the Centers for Disease Control and Prevention (CDC) and administrator for the Agency for Toxic Substances and Disease Registry (ATSDR). He was named director of CDC by the White House and the Department of Health and Human Services on May 15. 
Dr. Frieden, 48, has been the director of the New York City (NYC) Health Department since 2002. He is an infectious disease expert and has lead initiatives that support wellness and prevention.
He replaces Dr. Richard Besser who has been the acting CDC director and acting ATSDR administrator since mid January. Dr. Besser returns to his role as director of CDC's Coordinating Office for Terrorism Preparedness and Emergency Response. 
In a May 15 White House press release, President Obama praised Dr. Frieden for his efforts in NYC and stated: "Dr. Frieden is an expert in preparedness and response to health emergencies, and has been at the forefront of the fight against heart disease, cancer, obesity, and infectious diseases such as tuberculosis and AIDS, and in the establishment of electronic health records. Dr. Frieden has been a leader for health care reform, and his experiences confronting public health challenges in our country and abroad will be essential in his new role."
"Dr. Frieden is widely regarded as one of the premier public health experts in the world and has a wealth of experience in public health and science," Health and Human Services Secretary Kathleen Sebelius said. "Dr. Frieden has a strong track record as a public health innovator and leader, which will serve CDC well as it continues to meet the nation's public health needs."
"I'm excited about the opportunity to lead CDC - the depth and breadth of knowledge at CDC is enormous," Dr. Frieden said. "President Obama and Secretary Sebelius recognize the importance of prevention – something CDC does well. Both are committed to prevention as a key component of health reform, as evidenced by the Recovery Act, and have highlighted the need for our society to do more to prevent, manage, and treat chronic diseases." 
Dr. Frieden was a CDC Epidemic Intelligence Service Officer (EIS) from 1990 until 1992. He worked in NYC and investigated and fostered pubic awareness around tuberculosis, including strains of the bacteria with drug resistance.
Along with then NYC Health Commissioner and current US Food and Drug Administration Commissioner Dr. Margaret Hamburg, Dr. Frieden led the effort that stopped the spread of drug-resistant tuberculosis in NYC in the mid 1990s. Following that, Dr. Frieden helped the Indian government establish a tuberculosis control program which has now saved more than one million lives.
As NYC Health Commissioner, Dr. Frieden led efforts that reduced the number of smokers by 350,000 and cut teen smoking in half. NYC has also increased cancer screening, reduced AIDS deaths by 40%, improved collection and availability of information on community health, and implemented the nation's largest community electronic health records project.
Dr. Frieden and this team have responded effectively to several urgent health problems, including cases of anthrax, plague, and, most recently novel H1N1 influenza. 
Dr. Frieden earned his B.A. degree at Oberlin College in Ohio and his M.D. degree at Columbia University College of Physicians and Surgeons in New York. He earned his Masters of Public Health (MPH) at Columbia University's School of Public Health. He completed his internship and residency in internal medicine at Columbia-Presbyterian Medical Center and sub-specialty training in infectious diseases at Yale University. He is married with two children.
The CDC is the nation's disease prevention and wellness promotion agency, protecting people's health and safety, providing credible information to enhance health decisions, and improving health through strong partnerships.
The agency includes 18 institutes, centers and offices, with approximately 14,000, full time, part-time and contract employees. CDC is headquartered in Atlanta and has experts located throughout the United States and in 54 countries. Its fiscal year 2009 budget is $6.7 billion with an additional $3.4 billion for the Vaccines for Children program. 1)
A bio of Dr. Frieden is available at http://www.cdc.gov/about/leadership/leaders/Frieden.htm, and a high-resolution photo is available for download at http://www.cdc.gov/media/subtopic/images.htm.
Council on Foreign Relations Expert Bio
Dr. Tom Frieden is senior fellow for global health at the Council for Foreign Relations (CFR). He is also the president and CEO of Resolve to Save Lives, an initiative of Vital Strategies, which aims to prevent both epidemics and cardiovascular disease and was launched in September 2017 for an initial five-year initiative with $225 million in funding.
Dr. Frieden is a national and global leader who has spent his career working to improve health in the United States and around the world. He is one of the world's top experts in prevention of cardiovascular disease, tobacco control, tuberculosis, and health policy and administration. 2)
CFR Pandemic Viewpoint
It's Time to Restrict Visits to Nursing Homes by Tom Frieden via CNN March 8, 2020
Last week, I noted that we were in the calm before the storm. Now, the storm has started in the United States and is gathering strength. Covid-19, the illness caused by the novel coronavirus, has passed 100,000 cases globally.
There are already clusters of infection in several areas of the country. Financial markets are in turmoil, global travel is grinding to a halt, and many people worry about the safety of travel, work, school and meetings.
Covid-19 will get a lot worse before it gets better. Nursing homes are ground zero for Covid-19
One thing stands out as the virus spreads throughout the United States: Nursing homes and other long-term care facilities are ground zero. Most deaths in the United States thus far are connected to a single nursing home in Kirkland, Washington.
This nursing home outbreak of Covid-19 is what we call a "sentinel event": a warning of outbreaks and deaths that may be coming. But these deaths are not inevitable. It is essential that we protect the most vulnerable people – those with serious underlying health conditions such as respiratory disease, cancer and diabetes and older adults. The overall case fatality ratio for Covid-19 appears to be under 1%, but is many times higher for the elderly.
The threat of rapid spread within long-term care facilities means that if we make the tough decision, now, to immediately restrict visits, we may be able to prevent many more outbreaks like the one in Kirkland. We also must ensure that any nursing home staff who are ill not come to work – and that they receive paid leave, so they have no economic incentive to come to work if ill. Families want to visit loved ones; we should facilitate virtual visits until we know more and can do more to protect the most vulnerable.
What else can we do right now to keep Covid-19 from getting even worse? There are other actions we can all take now to minimize further spread of Covid-19 and prevent even more societal and economic disruption.
Everybody. We must all make preventing spread of infection a top priority. That means frequent and thorough hand washing (or use of hand sanitizer), covering our coughs and staying home if we're sick. Seek medical attention if you have Covid-19 symptoms (dry cough, fever, difficulty breathing) for more than two days. And don't wear a face mask unless you have cough or fever. Outside of health care settings, a mask's main benefit is to help keep someone who is sick from infecting others. We aren't going to have enough masks, and we need to prioritize those that we have for health care workers, those caring for ill people and people who have symptoms.
Editors Note - Dr. Tom Frieden is the former director of the US Centers for Disease Control and Prevention, and former commissioner of the New York City Health Department. He is currently president and CEO of Resolve to Save Lives, a global non-profit initiative funded by Bloomberg Philanthropies, the Chan Zuckerberg Initiative, and the Bill and Melinda Gates Foundation, and part of the global non-profit Vital Strategies. Resolve to Save Lives works with countries to prevent 100 million deaths and to make the world safer from epidemics. Dr. Frieden is also senior fellow for Global Health at the Council on Foreign Relations. The views expressed in this commentary are solely those of the author.3)
President and CEO Resolve to Save Lives
Dr. Tom Frieden served as Director of the Centers for Disease Control and Prevention, and Commissioner of the New York City Health Department. His work made New York City's tuberculosis control program and overall health department models for the world, established effective programs in India, and improved morale, effectiveness, and impact at the Centers for Disease Control and Prevention. Dr. Tom Frieden's influential publications have identified the what, how and why of action to improve health.
Dr. Tom Frieden is a physician with advanced training in internal medicine, infectious disease, public health, and epidemiology. Over the past 25 years:
As Director, led the Centers for Disease Control and Prevention (CDC) work that ended the Ebola epidemic, launched initiative that will prevent 500,000 heart attacks and strokes, sounded the alarm and accelerated progress addressing the epidemic of opioid use, and increased effective action on the front lines to find and fight winnable battles and protect and improve health in the United States and around the world (2009-2017).
As the first Director of International Health Programs of Bloomberg Philanthropies, designed and launched the Bloomberg Initiative to Reduce Tobacco Use, a program that has prevented more than 35 million deaths around the world (2006-2009, pro bono).
As Health Commissioner, led health transformation in New York City, increasing life expectancy by 3 years, preventing more than 100,000 deaths from smoking, and spurring national and global action on, among other areas, better epidemiologic understanding and control of public health problems including HIV, tobacco control, nutrition, as well as the integration of health care and public health. Reorganized to increase revenues and optimize health impact (2002-2009).
Guided the Indian tuberculosis control program to improve diagnosis and treatment rapidly, creating the largest and fastest expanding effective tuberculosis control program in the world and saving at least 3 million lives (1996-2002).
Led control of the largest outbreak of multidrug-resistant tuberculosis ever to occur in the United States by creating a tuberculosis control program that is a model for the United States and the world, with intensive community outreach, clinical excellence, effective integration of health care and public health, ongoing analysis and publication of key epidemiologic and program aspects, and rigorous accountability (1990-1996). For more information visit: www.DrTomFrieden.net
Professional experience
President and Chief Executive Officer, Resolve to Save Lives, an initiative housed at Vital Strategies. 2017 – present
Director, Centers for Disease Control and Prevention (CDC). 2009 – 2017
Commissioner of Health and Mental Hygiene, New York City. 2002 – 2009
Director, Global Health, Bloomberg Philanthropies. 2006-2009 (pro bono)
Medical Officer, Tuberculosis Control, Southeast Asia Regional Office, World Health Organization (seconded from the CDC). 1996 – 2002
Assistant Commissioner of Health and Director, Bureau of Tuberculosis Control, New York City Department of Health (seconded from the CDC). 1992 – 1996
Assistant Clinical Professor of Public Health (Epidemiology)
Columbia University School of Public Health. 1993 – 2002.
Medical Supervisor. Psychiatry program for homeless men. 1988 – 1989.
Community Organizer. Center for Health Services. Vanderbilt University. 1982. Selected Awards and Honors:
Honorary Doctorate of Science, New York University, 2017 Honorary Doctorate of Science, Albert Einstein College of Medicine, 2017
MedShare Humanitarian Award, 2017
CDC Foundation announced Tom Frieden Future Leaders Fund, 2017
Campaign for Tobacco Free-Kids Champion Award, 2016
Courageous Leadership Award, National Rx Drug Abuse and Heroin Summit, 2016
Modern Healthcare and Modern Physician, 50 Most Influential Physician Executives in Healthcare
Arthur P. Gold Foundation Humanism in Medicine Award, 2015
New England Journal of Medicine Shattuck Lecture, 2015
Honorary Doctorate of Science, Oglethorpe University, 2015
TIME - 100 Most Influential People, 2014
Harvard School of Public Health Julius B. Richmond Award, 2014
American Society for Clinical Pathology Patient's Advocate Award, 2013
Morehouse College, Innovative Creative Entrepreneurial Award, 2013 Honorary Doctorate of Science, Oberlin College, 2012 Honorary Doctorate of Public Service, Tufts University, 2011
Elected as member of the National Academy of Sciences, 2009
Prize for Public Service Innovation, Citizens Budget Commission, 2009
Milton and Ruth Roemer Prize for Creative Local Public Health Work, APHA, 2008
American Diabetes Association's Distinguished Service Achievement Award, 2008
The New York Observer's 100 Most Powerful People in New York, 2008
New York 1's New Yorker of the Year 2006
Governing Magazine's Public Official of the Year 2005 Award
Distinguished Service Award. Douglas (Tennessee) Community Health Council, 1982
Distinguished Service Award. New York Psychiatric Hospital, 1978 Certification
Board Certified, Infectious Diseases. 1992 - 2002
Board Certified, Internal Medicine. 1989 - present
Diplomate, National Board of Medical Examiners. 1987
New York State Medical License. 1986 - present Selected presentations available online
Resolve to Save Lives (Program Launch, September 2017)
Zika (National Press Club, May 2016)
The cough heard 'round the world (National Press Club, September 2013)
What do you do when your best shot fails? (TEDMED, April 2012)
A Public Health Approach to Infectious Disease Prevention and Control for the 21st Century (Kinyoun Lecture, November 17, 2011) 4)
Sexual Abuser
Former CDC director Tom Frieden accused of groping woman in New York
By Mark Crudele - Aug 24, 2018 - ABC News' Morgan Winsor contributed to this report.

Former Centers for Disease Control and Prevention director Tom Frieden turned himself in to authorities in New York City on Friday to face charges that he groped a woman he knew last year, according to law enforcement officials.
Frieden, who was also the New York City Health Commissioner, allegedly grabbed the woman's butt during a gathering at his Brooklyn apartment last October.
The unidentified 55-year-old woman reported the incident in early July, and Frieden surrendered to authorities at the New York Police Department Friday morning, law enforcement officials told ABC News.
Frieden, who was charged with forcible touching, sex abuse and harassment, was scheduled to appear in court in Brooklyn for his arraignment Friday afternoon.
"This allegation does not reflect Dr. Frieden's public or private behavior, or his values over a lifetime of service to improve the health around the world," a spokesperson for Frieden told ABC News on Friday.
Frieden is currently the president and CEO of Resolve to Save Lives, a $225 million global health initiative that aims to prevent 100 million deaths from cardiovascular disease and to prevent epidemics.
Jose Castro, the president and CEO of Vital Strategies, the New York-based nonprofit that houses the Resolve to Save Lives initiative, released a statement in support of Frieden, saying he has the "highest ethical standards personally and professionally" and there have been "no incidents of workplace harassment." Castro continued "Vital Strategies greatly values the work Dr. Frieden does to advance public health and he has my full confidence."5)
Former CDC director Tom Frieden pleads guilty in sex abuse case, gets no jail time
ABC News By Christina Carrega - Jun 4, 2019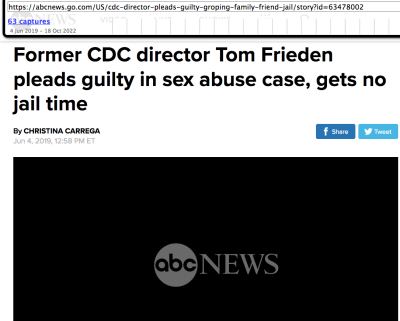 Former director of the Centers for Disease Control and Prevention Tom Frieden avoided jail time on Tuesday after pleading guilty to groping a longtime family friend in New York.
Frieden, who is also the former New York City health comissioner, turned himself in to police in August 2018 after the woman reported that he had grabbed her butt without her permission inside his Brooklyn apartment, court documents said.
Frieden admitted details of the October 2017 incident to Brooklyn Criminal Court Judge Edwin Novillo. Frieden was facing up to a year in jail for misdemeanor forcible touching, third-degree sexual abuse and second-degree harassment charges, prosecutors said.
A representative for Frieden declined to comment on the case. Frieden's defense attorney, Laura Brevetti, also declined to comment outside of court.6)
(MORE: Former CDC director Tom Frieden accused of groping woman in New York, officials say)