Table of Contents
Rita Colwell
Monsanto Biotech Brigade Roots
(timeline text does not copy) 1)
1998

1992 FDA NEW ADVISORY COMMITTEE FOR BIOTECH FOODS
Sept. 10, 1992 Brad Stone - (202) 205-4144
             FDA ESTABLISHES NEW ADVISORY COMMITTEE FOR FOODS
FDA has established a committee of outside experts to advise the agency on food safety and nutrition issues. While FDA has long relied on advisory committees in other areas under its purview, this is the first such committee established to work with the agency on these issues.
  The following can be used to answer questions:
 
As one of about 40 advisory committees that provide expert analysis on products the agency regulates, the Food Advisory Committee will be convened by FDA at least twice a year to evaluate and comment on specific issues of importance to the agency. Although the committee's recommendations will not be binding, they will be carefully considered in the agency's decisionmaking.
The committee will generally conduct its work in open meetings at which interested parties may make presentations. Advance notice of meetings will appear in the Federal Register. The first meeting is being planned for later in the fall.
The committee will consist of 20 voting members and 4 non-voting industry consultants. The voting members are from a variety of disciplines including life sciences, medicine, law, academia, public health and consumer protection.
Edward N. Brandt, Jr., M.D., a professor at the University of Oklahoma's Department of Health Administration and Policy and former HHS Assistant Secretary for Health, will be the chair.
Committee members and their affiliations are as follows:
VOTING MEMBERS –
Edward N. Brant., Jr., M.D., Professor, Department of Health

Administration and Policy, University of Oklahoma

Dennis M. Bier, M.D., Director, Pediatric Clinical Research, Washington

University School of Medicine

Paul A. Blake, M.D., Chief, Enteric Diseases Branch, Centers for Disease

Control

Myrtle L. Brown, Ph.D., Professor Emeritus, retired, Virginia Polytechnic

Institute and State University

University of Maryland

Jeanne P. Goldberg, Ph.D, Associate Professor, Tufts University School of

Medicine

Peter Greenwald, M.D., Director, Division of Cancer Prevention & Control,

National Cancer Institute, National Institutes of Health

David R. Lineback, Ph.D., Professor & Head, Department of Food Science,

North Carolina State University

John Liston, Ph.D., Chairman, Institute for Food Science & Technology,

School of Fisheries, University of Washington

Laurene Mascola, M.D., Chief, Acute Communicable Disease Control Unit,

Los Angeles County Department of Health Services

Martha Rhodes Roberts, Ph.D., Deputy Commissioner for Food Safety, Florida

Department of Agriculture

Robert D. Sowards, Jr., Chief, Food Branch, Texas Department of Health

Jeffrey Steingarten, Food Critic and Contributing Editor, Vogue Magazine

Donald L. White, D.V.M., M.P.H., Associate Administrator, Food Safety and

Inspection Service, U.S. Department of Agriculture

*Marsha N. Cohen, J.D., Professor of Law, Hastings College of Law,

University of California

*Evelyn F. Crayton, Ed.D., Associate Professor, Extension Specialist,

Auburn University

*Joan Dye Gussow, Ed.D., Professor of Nutrition & Education, Teachers

College, Columbia University

*Marion Nestle, Ph.D., Professor and Chair, Department of Nutrition,

Food & Hotel Management, New York University

The two remaining voting members are expected to be named shortly.

NON-VOTING CONSULTANTS –

Lester M. Crawford, D.V.M., Ph.D., Executive Vice President, Scientific

Affairs, National Food Processors Association

Andrew G. Ebert, Ph.D., Senior Vice President, Robert H. Kellen Company

Kristen McNutt, Ph.D., President, Consumer Choices, Inc.

Gilbert A. Leveille, Ph.D., Vice President, Nabisco Foods Group

2)
Destroying Precautionary Principle
On May 13, 2003, U.S. Trade Representative Robert Zoellick and Agriculture Secretary Ann Veneman announced that the United States, Argentina, Canada, and Egypt would file a WTO case against the European Union over its illegal 5-year moratorium on approving agricultural biotech products.
House Resolution 252 HR252
This an important discussion. Maybe it would be reasonable, Mr. Speaker, to start out trying to explain what is biotechnology?
Gregor Mendel discovered dominant and recessive traits in plants in the mid 19th century. He started taking two quality plants and crossing them to see if you could come out with an improved variety. So we have had cross-breeding, we have had hybrid breeding ever since. Now we have finished gene cataloguing of an agricultural plant called the Arabidopsis, a mustard plant.
But with 25,000 genes, you just took your chances when mixing two plants together. Sometimes the product turned out poisonous or allergenic. Sometimes it was very undesirable for a raft of other reasons.
Now we have the scientific technology to pick out one single gene and decide what characteristics are going to evolve from that gene, and instead of taking your chances by mixing 25,000 or 30,000 genes of two plants, you pick out one gene because you want a certain characteristic. You put it into that other plant and predetermine what is going to happen as a result.
Now, there is a lot of scare of what might happen generations from now.
Page 14269 Look, the possibilities in developing countries are so tremendous.
That is why our whip mentioned that the day after tomorrow I am holding a hearing on biotechnology. The Speaker is going to lead off the testimony in that hearing on the potential and safety of biotechnology.
We are going to have Rita Calwell from NSF come to tell us about the implementation of what we put in my NSF bill in terms of working with African scientists, developing products that are going to help their particular country. And if we get into Africa, eventually, science and biotechnology are going to prevail. We are going to have Mr. Natsios, the administrator of AID, say how important it is that we do not restrict this technology for developing countries.
Vote for this resolution and vote to let science, not emotion, rule the future of agricultural biotechnology.
On May 12th, the Speaker of the House and members of Congress joined with the Bush Administration to challenge the European Union's import ban on genetically modified (GM) crops. WTO rules, while allowing countries to reject imports on the basis of health and environmental concerns, require that any such policy be supported by scientific evidence.
However, the EU has refused to process new applications for trade of transgenic food crops since 1998 without even attempting to demonstrate any compelling scientific reasons. It is estimated that over $300 million annually in U.S. corn exports alone are being lost.
Even EU Enviroment Commissioner Margot Wallstrom has admitted that, ``We have already waited too long to act. The moratorium is illegal and not justified.''
While the EU stance on GM crops is an unfair economic burden on American farmers, it is also an unjust burden on the world's poorest continent. With approximately 180 million undernourished people, Africa stands to benefit tremendously from GM crops.
The EU is exploiting Africa's dependence on the EU market to stall acceptance of GM crops. For example, with its population literally starving last year, Zambia rejected 23,000 metric tons of U.S. food aid because Europe might reject future Zambian corn exports. EU pressure is even impeding research on new transgenic crop varieties important to bringing Africa closer to sustainability.
The Speaker of the House, USAID Administrator, and leading scientists will testify at my Research Subcommittee hearing this Thursday. We will examine barriers to plant biotechnology in Africa and new government programs supporting partnerships with African scientists in Africa.
The U.S. challenge moves us one step closer to removing unfair barriers that hurt American farmers and deny the people of Africa a tool for combating hunger. Please support H. Res. 252. 3)
Biography
2006 Edition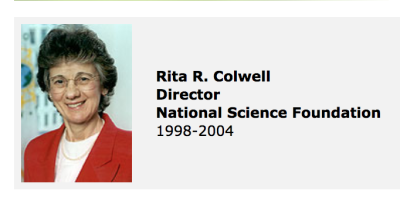 Dr. Rita R. Colwell became the 11th Director of the National Science Foundation on August 4, 1998.
Dr. Colwell spearheaded the agency's emphases in K-12 science and mathematics education, graduate science and engineering education/training and the increased participation of women and minorities in science and engineering.
Her policy approach enabled the agency to strengthen its core activities, as well as establish major initiatives, including Nanotechnology, Biocomplexity, Information Technology, Social, Behavioral and Economic Sciences and the 21st Century Workforce. In her capacity as NSF Director, she served as Co-chair of the Committee on Science of the National Science and Technology Council.
Under her leadership, the Foundation received significant budget increases, and its funding recently reached a level of more than $5.3 billion.
Before coming to NSF, Dr. Colwell was President of the University of Maryland Biotechnology Institute, 1991-1998, and she remains Professor of Microbiology and Biotechnology (on leave) at the University Maryland. She was also a member of the National Science Board from 1984 to 1990.
Dr. Colwell has held many advisory positions in the U.S. Government, non-profit science policy organizations, and private foundations, as well as in the international scientific research community. She is a nationally respected scientist and educator, and has authored or co-authored 16 books and more than 600 scientific publications. She produced the award-winning film, Invisible Seas, and has served on editorial boards of numerous scientific journals.
She is the recipient of numerous awards, including the Medal of Distinction from Columbia University, the Gold Medal of Charles University, Prague, the UCLA Medal from the University of California, Los Angeles, and the Alumna Summa Laude Dignata from the University of Washington, Seattle.
Dr. Colwell has also been awarded 35 honorary degrees from institutions of higher education, including her Alma Mater, Purdue University. Dr. Colwell is an honorary member of the microbiological societies of the UK, France, Israel, Bangladesh, and the U.S. and has held several honorary professorships, including the University of Queensland, Australia. A geological site in Antarctica, Colwell Massif, has been named in recognition of her work in the polar regions.
Dr. Colwell has previously served as Chairman of the Board of Governors of the American Academy of Microbiology and also as President of the American Association for the Advancement of Science, the American Society for Microbiology, the Sigma Xi National Science Honorary Society, and the International Union of Microbiological Societies. Dr. Colwell is a member of the American Academy of Arts and Sciences, the American Philosophical Society and the National Academy of Sciences. 4)
2019 Additions
Dr. Rita Colwell is Distinguished University Professor both at the University of Maryland at College Park and at Johns Hopkins University Bloomberg School of Public Health, Senior Advisor and Chairman Emeritus, Canon US Life Sciences, Inc., and President and Chairman of CosmosID, Inc. Her interests are focused on global infectious diseases, water, and health, and she is currently developing an international network to address emerging infectious diseases and water issues, including safe drinking water for both the developed and developing world, in collaboration with Safe Water Network, headquartered in New York City.
Dr. Colwell has been awarded 55 honorary degrees from institutions of higher education, including her Alma Mater, Purdue University and is the recipient of the Order of the Rising Sun, Gold and Silver Star, bestowed by the Emperor of Japan, the 2006 National Medal of Science awarded by the President of the United States, and the 2010 Stockholm Water Prize awarded by the King of Sweden. Dr. Colwell is an honorary member of the microbiological societies of the UK, Australia, France, Israel, Bangladesh, Czechoslovakia, and the U.S. and has held several honorary professorships, including the University of Queensland, Australia. A geological site in Antarctica, Colwell Massif, has been named in recognition of her work in the polar regions. 5)
Global Council for Science and the Environment
Rita Colwell is listed without any role noted in her stock bio but she is featured on the Board of Directors page. 6) 7)
The Global Council for Science and the Environment (GCSE) is a nongovernmental organization established in 1990 that advances the use of science to inform environmental decision-making. The work of GCSE spans boundaries between science and decision-making to strengthen the impact of durable solutions to environmental challenges. GCSE engages scientists, educators, policymakers, business leaders, and officials at all levels of government. 8)
Global Council for Science and the Environment * formerly the National Council for Science and the Environment 1776 Eye Street NW Suite 750 Washington DC 20006
CosmosID
Inspired by challenges in biothreat detection and epidemiology, world-renowned microbiologist, Professor Rita Colwell, started CosmosID® in 2008 to develop computational methods that could leverage Next-Generation Sequencing (NGS) technologies to achieve strain-level detection of microorganisms in any complex sample and better our understanding of human health & disease.
Based in Germantown, MD, CosmosID®'s CLIA-certified, GCP-compliant laboratory provides the microbiome field with access to standardized and validated metagenomics solutions so that industry, academia & clinicians can unlock the microbiome with confidence! 9)
Genetically Modified Food Science
U.S. president bestows medal on Penn State maize geneticist Friday, July 27, 2007
Photo: Greg Grieco
President Bush and Nina Fedoroff smile after he presented her with the 2006 Science Medal of Honor.
Washington, D.C. — Sixteen scientists including Penn State's Nina Fedoroff, three corporations, one research team and seven innovators were honored today (July 27, 2007) as the latest National Medal of Science and Technology Laureates for their contributions in areas ranging from paleoclimatology to the chemical synthesis of DNA, from mathematics education to the dissecting of the human immunodeficiency virus (HIV).
The National Medal of Science honors individuals for pioneering scientific research in a range of fields that enhances our understanding of the world and leads to innovations that give the U.S. its global economic edge. The National Medal of Technology recognizes individuals, teams and/or companies/divisions for their outstanding contributions to America's economic, environmental and social well-being through the development and commercialization of technology products, processes and concepts.
The full list of the 2005 and 2006 National Medal of Science and National Medal of Technology recipients is at http://www.technology.gov
Fedoroff, the Verne M. Williaman chair in life sciences and an Evan Pugh professor at Penn State, is one of the nation's most prominent researchers in the life sciences and biotechnology. At the ceremony, the Penn State scientist was recognized for "pioneering work on plant molecular biology and for her being the first to clone and characterize maize transposons. She has contributed to education and public policy pertaining to recombinant DNA and genetic modication of plants."
Fedoroff noted, "It is extremely rewarding to have such recognition for your life's work. Professionally, it is my hope that it will help me in my new position as science and technology adviser to the Secretary of State."
In a 2005 Research Penn State online article, the scientist noted, "We've been changing the genetic makeup of our food for millennia, coaxing nature to do our bidding. Long before scientists understood what genes were and how they worked, early civilizations created wheat and corn. These crops, so very different from their wild ancestors, were mankind's first ventures in genetic modification. In time, plant breeders learned to stir up plant genes faster, using novel hybridization methods, chemicals and even radiation, to produce such marvels as white blackberries, Ice Cube lettuce and Rio Red grapefruit.
"The label sparks heated debate," she said. "Genetically modified foods are as safe to eat as foods made from plants modified by more traditional methods of plant breeding. In fact, they are very probably safer, simply because they undergo testing that has never been required for food plants modified either by traditional breeding techniques or by mutagenesis, both of which can alter a plant's chemical composition.
Rita Colwell, the University of Maryland researcher of marine microbes, most notably the causative agent of pandemic cholera, joined Fedoroff as the only women in both groups of awardees.