Table of Contents
National Intelligence Council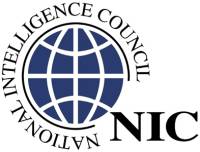 The National Intelligence Council is an American advisory body that reports to the Director of National Intelligence of the United States of America.
Publications
Global Trends 2020: Mapping the Global Future
In December 2004, the NIC published a report on its 2020 Project, titled "Global Trends 2020: Mapping the Global Future".1) Developed in consultation with "non-governmental experts around the world," the report examined possible scenarios evolving out of global trends shaping international politics and economics. Particular emphasis was put on the increasing role of China and India on the global stage, as well as the evolution of radical Islamic terrorism worldwide. Considerations are made for the potential proliferation of weapons of mass destruction (WMD) and the use of biological and chemical weapons in future terrorist attacks.
Global Trends 2035: Paradox of Progress
2)
Barnes, J. E. (2021, April 8).
U.S. Intelligence Report Warns of Global Consequences of Social Fragmentation.
The New York Times.
https://archive.ph/WaFOT