Table of Contents
Loyalist Public Affairs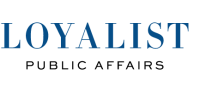 Loyalist Public Affairs is a lobbying firm located in Ottawa and Toronto, Ontario. The company has significant conflicts of interests regarding the Doug Ford government's COVID-19 response.
Team
Chris Froggatt
Froggatt was Vice-Chair of Doug Ford and the successful Progressive Conservative Party's 2018 election campaign, and "led the transition team that selected Ford's cabinet and hired chiefs of staff." He registered the domain name for Loyalist Public Affairs, on August 1, 2018, a month after his work on the transition team.1)
As with his former colleague Kory Teneycke at Rubicon Strategy, Froggatt can't lobby to the government he helped elect - he can, however, profit off of the lobbying activities of junior colleagues he hires through him firm.
Froggatt remains active in the PC Party as Chair of the Election Readiness Committee.2)