Table of Contents
Lipid Nanoparticles
Use in Vaccines
Lavishly funded Moderna hits safety problems in bold bid to revolutionize medicine
By Damian Garde Jan. 10, 2017
Moderna Therapeutics, the most highly valued private company in biotech, has run into troubling safety problems with its most ambitious therapy, STAT has learned — and is now banking on a mysterious new technology to keep afloat its brash promise of reinventing modern medicine.
Exactly one year ago, Moderna CEO Stéphane Bancel talked up his company's "unbelievable" future before a standing-room-only crowd at the annual J.P. Morgan Healthcare Conference here.
His presentation instead focused on four vaccines that the company is moving through the first phase of clinical trials: two target strains of influenza, a third is for Zika virus, and the fourth remains a secret. Bancel clicked through graphs of data from animal studies before hurrying on to tout Moderna's balance sheet and discuss the company's cancer vaccines, slated for clinical testing later this year.
In order to protect mRNA molecules from the body's natural defenses, drug developers must wrap them in a protective casing. For Moderna, that meant putting its Crigler-Najjar therapy in nanoparticles made of lipids. And for its chemists, those nanoparticles created a daunting challenge: Dose too little, and you don't get enough enzyme to affect the disease; dose too much, and the drug is too toxic for patients.
From the start, Moderna's scientists knew that using mRNA to spur protein production would be a tough task, so they scoured the medical literature for diseases that might be treated with just small amounts of additional protein.
"And that list of diseases is very, very short," said the former employee who described Bancel as needing a Hail Mary. Crigler-Najjar was the lowest-hanging fruit.
Yet Moderna could not make its therapy work, former employees and collaborators said. The safe dose was too weak, and repeat injections of a dose strong enough to be effective had troubling effects on the liver in animal studies.1)
Patent Holders Covid Vaccine Development
The mRNA IP and Competitive Landscape Through One Year of the COVID-19 Pandemic – Part I
IP Watchdog - April 11, 2021 By Daniel Shores & Dylan Haversack & Andrew J. Storaska, Ph.D.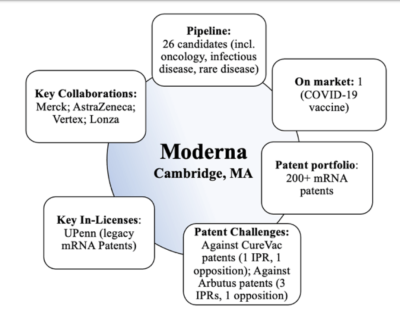 CureVac has reportedly partnered with third parties in connection with mRNA technology, including Novartis (March 2021 initial agreement for manufacturing of CureVac's COVID-19 vaccine candidate CVnCoV); Bayer (January 2021 collaboration and services agreement for the development and supply of CureVac's CVnCoV candidate); GlaxoSmithKline (July 2020 Collaboration and License Agreement to research, develop, and commercialize CureVac's prophylactic and therapeutic non-replicating mRNA-based vaccines targeting infectious diseases); Genmab (December 2019 Collaboration and License Agreement for the development of mRNA-based antibody therapeutics); CRISPR Therapeutics (November 2017 Development and License Agreement for developing CRISPR-based therapeutics in select disease areas and novel Cas9 mRNA constructs with improved properties for gene editing applications); Bill and Melinda Gates Foundation (February 2015 Global Access Commitments Agreement to develop prophylactic vaccines based on CureVac's mRNA platform and $52+ million in funding from the foundation) and Boehringer Ingelheim (August 2014 Exclusive Collaboration and License Agreement to develop next generation lung cancer immunotherapy with CureVac's CV9202).
With respect to LNP delivery technology, CureVac has reportedly entered into agreements with Arcturus Therapeutics (January 2018 Development and Option Agreement that provides CureVac with access to Arcturus's LNP formulation technology for use in CureVac's mRNA technology); and Acuitas (April 2016 Development and Option Agreement that provides CureVac access to Acuitas's LNP formulation technology that is used in combination with CureVac's mRNA technology). 2)