This is an old revision of the document!
---
Table of Contents
World Health Organization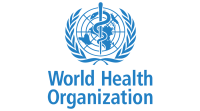 History
Canada joined the WHO on August 29, 1946.1)
NGO Influence
Paula Jardine described how the World Health Organisation's original aim to tackle the multiple causes of health inequality and disease – poor sanitation, lack of clean water, poor food supply, malnutrition – was replaced by one overriding goal, that of universal vaccination. Today she tells how two 'philanthropic' foundations joined forces to promote this approach through a global programme that would 'reverse the fortunes of the stagnant vaccine manufacturers' and how countries came to be persuaded to indiscriminately target 90 per cent coverage rates for all vaccines on their national immunisation schedules.
It was not long after the retirement of Dr Halfdan Mahler, WHO's director general from 1973-1988, that Unicef, the Rockefeller Foundation (RF) and other 'partners' launched the Children's Vaccine Initiative (CVI) to encourage developing countries to self-finance their Child Survival Revolution vaccination programmes. This was a significant change of direction.
It is more than 20 years since the RF and the Bill and Melinda Gates Foundation (BMGF) joined forces, using the World Bank to create the Global Alliance for Vaccines and Immunization (GAVI), now known as GAVI, The Vaccine Alliance. In the mid-1990s, with new leaders at the helm of both Unicef and the WHO, Dr Seth Berkley, the RF's associate director of health sciences, proposed to James Wolfensohn, the Rockefeller Foundation trustee appointed to the Presidency of the World Bank (WB) in 1995, that the WB and the RF stage 'a coup'.
Berkley wanted to replace the CVI, which was failing to live up to the expectations of the vaccine manufacturers: 'We will have an outside body that can bring in industry [which the World Health Organisation cannot legally do], do advocacy and build a truly international alliance'.
GAVI was officially created 'to save children's lives and protect people's health through the widespread use of safe vaccines, with a particular focus on the needs of developing countries'. Structured as a public-private partnership, largely funded by BMGF and vaccine manufacturers, GAVI's purpose was reverse the stagnation of the vaccine market, shaping it so more new and underused vaccines could be sold to the developing world.
Until 2017, the WHO modelled vaccine impact estimates for GAVI. However as Gavi's questions became more strategy and policy-oriented, with a need 'to better account for uncertainty' and to be able 'to estimate the vaccine impact more accurately striving for the highest level of scientific rigour', GAVI and the Gates Foundation outsourced this modelling work to a consortium led by Professor Neil Ferguson 2)
Initiatives
Update, December 22, 2021
Interim statement on booster doses for COVID-19 vaccination.
Three key points are apparent;
"The Director-General of WHO has called for a moratorium on booster vaccination for healthy adults until the end of 2021 to counter the persisting and profound inequity in global vaccine access. While many countries are far from reaching the 40% coverage target by the end of 2021, other countries have vaccinated well beyond this threshold, already reaching children and implementing extensive booster vaccination programmes. At the time of release of this statement, globally about 20% of COVID-19 vaccine doses, daily, are used for booster or additional dose vaccination."
"In accordance with the Roadmap and WHO's Strategy to Achieve Global COVID-19 Vaccination by mid-2022, the first priority of a vaccination programme is to reduce mortality and severe disease and to protect health systems."

"WHO is currently not recommending the general vaccination of children and adolescents as the burden of severe disease in these age groups is low and high coverage has not yet been achieved in all countries among those groups who are at highest risk of severe disease."
WHO AIDS Researchers
TIME - July 18, 2014 - About 100 people traveling to a global AIDS conference in Australia were on board the Malaysia Airlines flight that crashed and killed 298 people in eastern Ukraine, reports the Sydney Morning Herald.
The researchers, health workers and activists were on their way to the International AIDS Conference in Melbourne. Among the victims planning to attend was Dutch national Joep Lange, a top AIDS researcher and former International AIDS Society president. Briton Glenn Thomas, a spokesperson for the World Health Organization and a former BBC journalist, was also on flight MH17.
While the medical field mourns the lives of those killed, experts like Associate Professor Brian Owler, federal president of the Australian Medical Association, also fear that breakthroughs in HIV/AIDS research will now be stalled.
"The amount of knowledge that these people who died on the plane were carrying with them and the experiences they had developed will have a devastating impact on HIV research," Owler told TIME.
"The amount of time it takes to get to a stage where you can come up with those ideas cannot be replaced in a short amount of time. So it does set back work for a cure and strategic prevention of HIV/AIDS very significantly," he said. 3)
2016 WHO Research and Development Blueprint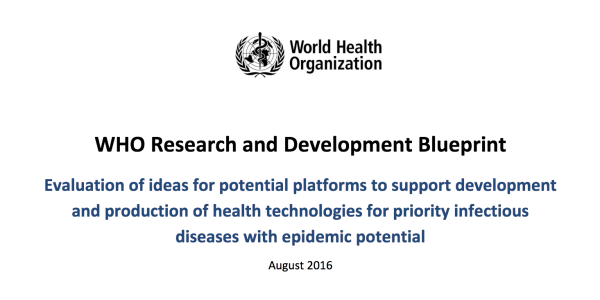 Evaluation of ideas for potential platforms to support development and production of health technologies for priority infectious diseases with epidemic potential. After a brief overview of the WHO R&D Blueprint, information was provided on the Coalition for Epidemic Preparedness Innovation (CEPI); and following a summary of the public consultation process since its launch, the six finalists (3 vaccines, 1 diagnostics, 1 immunotherapy, 1 covering all product streams) presented their ideas in open sessions.
The groups presented to the Advisory Group, the WHO Secretariat, interested member states3 (representatives of the Permanent Missions of Colombia, Germany, India, Korea, Norway, The Netherlands and The United Kingdom of Great Britain and Northern Ireland were present at the meeting), potential funders CEPI and Wellcome Trust and other observers (Médecins Sans Frontières - MSF).
Each presentation was followed by a brief summary of the feedback given by the Advisory Group during their review process, and by an open discussion with participants.
The R&D Blueprint is a global strategy and preparedness plan that allows the rapid activation of R&D activities during epidemics. Its aim is to fast-track the availability of effective tests, vaccines and medicines that can be used to save lives and avert large scale crisis. With WHO as convener, the broad global coalition of experts who have contributed to the Blueprint come from several medical, scientific and regulatory backgrounds. WHO Member States welcomed the development of the Blueprint at the World Health Assembly in May 2016.
The Coalition for Epidemic Preparedness Innovations (CEPI) is an initiative established following the Annual Meeting of the World Economic Forum in Davos in January 2016, where stakeholders from governments, foundations, industry and civil society discussed the urgent need for new and sustainable partnership models for product development (vaccines, diagnostics therapeutics) to contain outbreaks of emerging and epidemic-prone infectious disease (EID).
The Davos meeting reached a consensus that new mechanisms are required to finance and otherwise support vaccine development in cases of market failure, and that a partnership linking different sectors would be the best approach to delivering this. Recent outbreaks revealed gaps that such partnership should fill.
A process to create such a partnership is now underway (CEPI preparatory Phase: January-June 2016; CEPI start-up phase June 2016- December 2017), with an adopted interim entity, CEO and secretariat; a finalized strategic plan; established cross task teams to consider issues such as prioritisation, clinical development, manufacturing capacity and regulation, potential models for partnership, and potential innovative financing arrangements; and nominated candidates for interim Board of Directors and Scientific Advisory Committee.
CEPI will operate according to the principles of no loss, shared benefits and equitable access with the following objectives: preparedness; response speed; "market" security; and equity.
GlaxoSmithKline Improving R&D readiness
Improving R&D readiness for priority infectious disease threats through the development and utilisation of vaccine platform technologies Lead Institution: GlaxoSmithKline, LLC Dr Moncef Slaoui, Chairman of Vaccines, GlaxoSmithKline
GSK proposes to create a dedicated Biopreparedness Organisation (BPO) to improve R&D readiness for priority infectious disease threats that lack market incentives through the development and utilisation of vaccine platform technologies. The BPO will develop and manufacture vaccines to anticipate and improve preparedness for global health threats, including pandemics and epidemics.
By continuously and proactively developing needed vaccines and shifting to crisis response as required, the BPO would provide a fast, flexible, predictable, and high‐quality approach to the challenges of global preparedness.
For this purpose, GSK would made its proprietary technologies [adjuvant recombinant proteins; live-attenuated viral vectors; self-amplifying mRNA (SAM); chemical conjugation; and bio conjugation technology] available to the BPO. If so required, the BPO would also consider producing candidate vaccines based on technologies that GSK does not own (e.g. Recombinant Measles vector, MVA, VSV). It is the primary intent of the BPO to develop vaccines up to the point of clinical proof of concept with a 200,000 to 3 million‐dose vaccine stockpile.
Once a vaccine is developed to the point of clinical proof of concept and dose selection, decisions can be made, depending on the urgency of the threat, to either suspend the clinical development or, at the other extreme, to deploy vaccine and/or to progress to full approval by regulators with manufacturing from one or more permanent manufacturing sites outside the BPO. The BPO could transfer the technology to facilities around the world, including developing countries, to allow for expanded production. 4)